Susan Morrice and her devotion to "Dr" Tony Quinn
The question "Who is Susan Morrice?" was posed to me recently. Let's find out!
Morrice has been promoting the EDUCO Seminar, seemingly more than anyone, in the last decade. Let's have a look at all her efforts!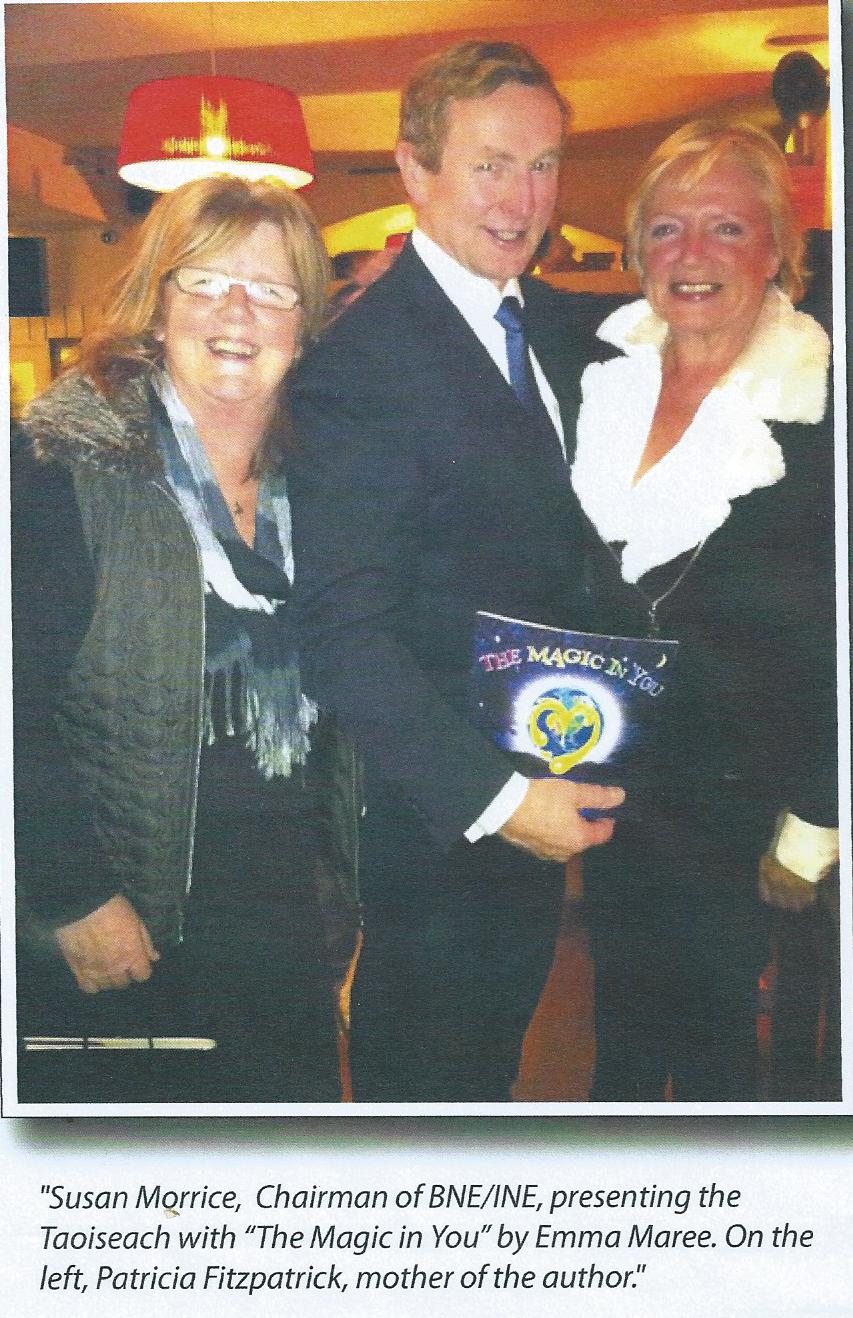 With her status as a Chairwoman of an oil company Susan Morrice enjoys mingling with powerful influential people. In 2013 Dialogue Ireland reported that Taoiseach (Irish Prime Minister) Enda Kenny was photographed with Morrice holding the book "The Magic In You". More on that book later!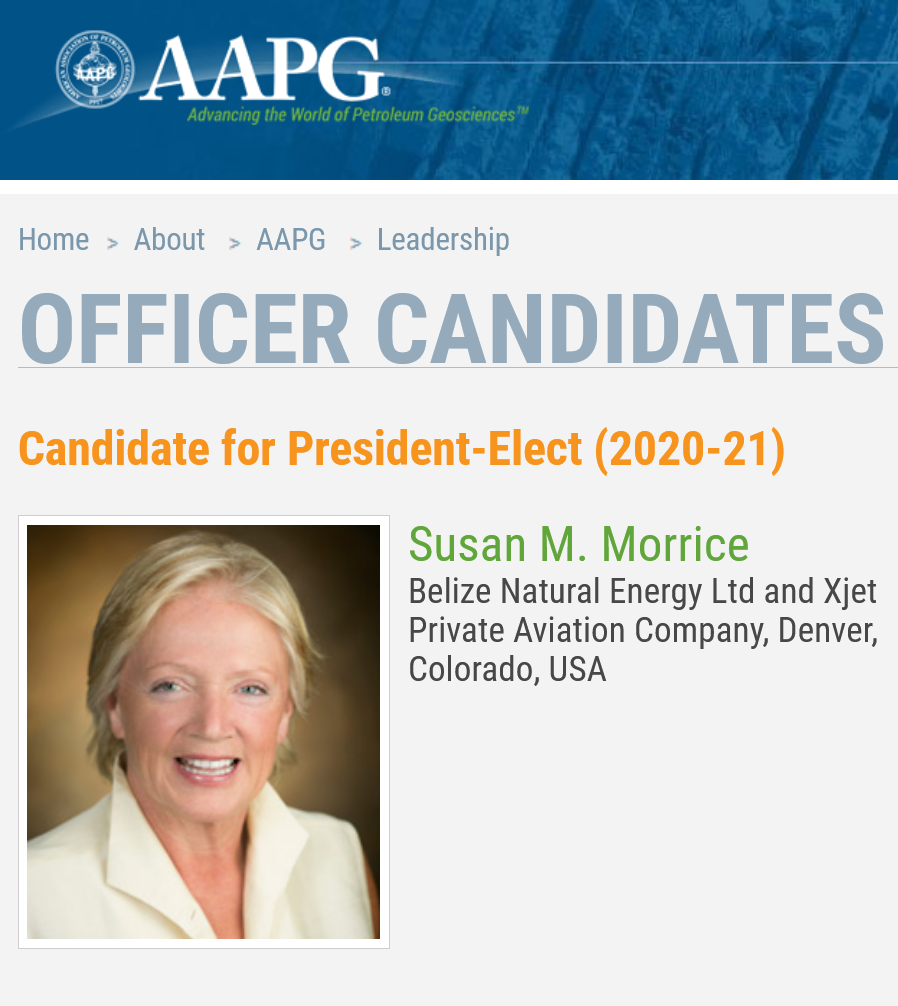 Morrice also has a long history of working with students. In 2014 the American Association of Petroleum Geologists (AAPG) "Explorer" magazine published an article where Morrice describes the organisation of Student Expos in 1994 for the AAPG, 8 years before Morrice attended her first EDUCO Seminar.
Morrice, having been AAPG President-Elect (2020-21) nominee, has a profile-page on the AAPG website which declares that EDUCO forms a key part of her "education".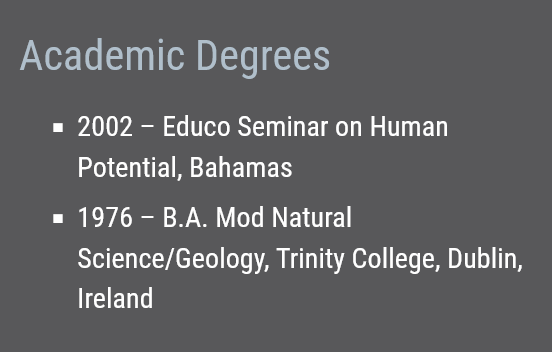 A video dated 2015 can be found on the internet where Morrice offers a "Scholarship" to one lucky University of Colorado student to attend the 12-day EDUCO Seminar. This Seminar has been exposed as the indoctrination event for the EDUCO Cult, and is run by Cult-leader "Dr" Tony Quinn.
Watch the video below where Morrice offers to gift the attendence of this Cult-indoctrination Seminar to the young student who pleads with her the most for this opportunity:
Video recordings of these events, obtained by the BBC and the Sunday World newspaper, show participants experiencing psychosis under the instruction of Cult-leader "Dr" Tony Quinn. This is a psychiatric phenomenon known as Folie imposée.
It is known that during this event participants are recorded, on video, divulging their deepest secrets having undergone hypnotherapy.
In 2017 Morrice was invited by the University of Colorado (Denver) Business School to give a "Keynote" speech on on 8 March 2017. A press-release after the event announced:
Those who attended the forum had the chance to hear Morrice talk about thinking big, and panelists discussed how to launch businesses, win promotions and navigate the corporate world. More than 50 women had the chance to make connections and get advice from experienced peers

Press release by the University of Colorado Denver Business School.
A video posted by the University of Colorado (Denver) shows Morrice in post-speech bliss. Deviating from the subject of inspiring students, she talks about how she promoted the EDUCO Seminar and points to "The Magic In You" book written by her friend Patricia Fitzpatrick's daughter.
The book "The Magic In You", written by Emma Fitzpatrick, is extraordinary in it's hyperbolic retelling of the history of Belize Natural Energy. Here is an excerpt from the end of this book which is baffling to anyone who has studied the history of Susan Morrice, Belize Natural Energy and Tony Quinn.
The author has spoken about the book:
In June 2018 Morrice was found claiming in the AAPG "Explorer" magazine how she had extended this offer of sending a young-person to the EDUCO Seminar again, only this time to a winner of the 2017 Diana Award.
"I wondered," she said, for the longest time, "about the women and the mind as well." She found an answer by sending a young Mayan girl, Elsia Pop, to the same EDUCO Seminar,who was not only mentored in entrepreneurship by the BNE employees but won the Princess Diana Legacy Award. "Pop was on a plane for her first time to London," Morrice said, "as a guest of the Royal Family."

"Finding Oil in the Unconscious Mind", AAPG Explorer, June 2018
Later that year, in October 2018, Morrice was decorated with the honour of being the University of Colorado (Denver) Global Energy Management (GEM) "Executive in Residence" until December.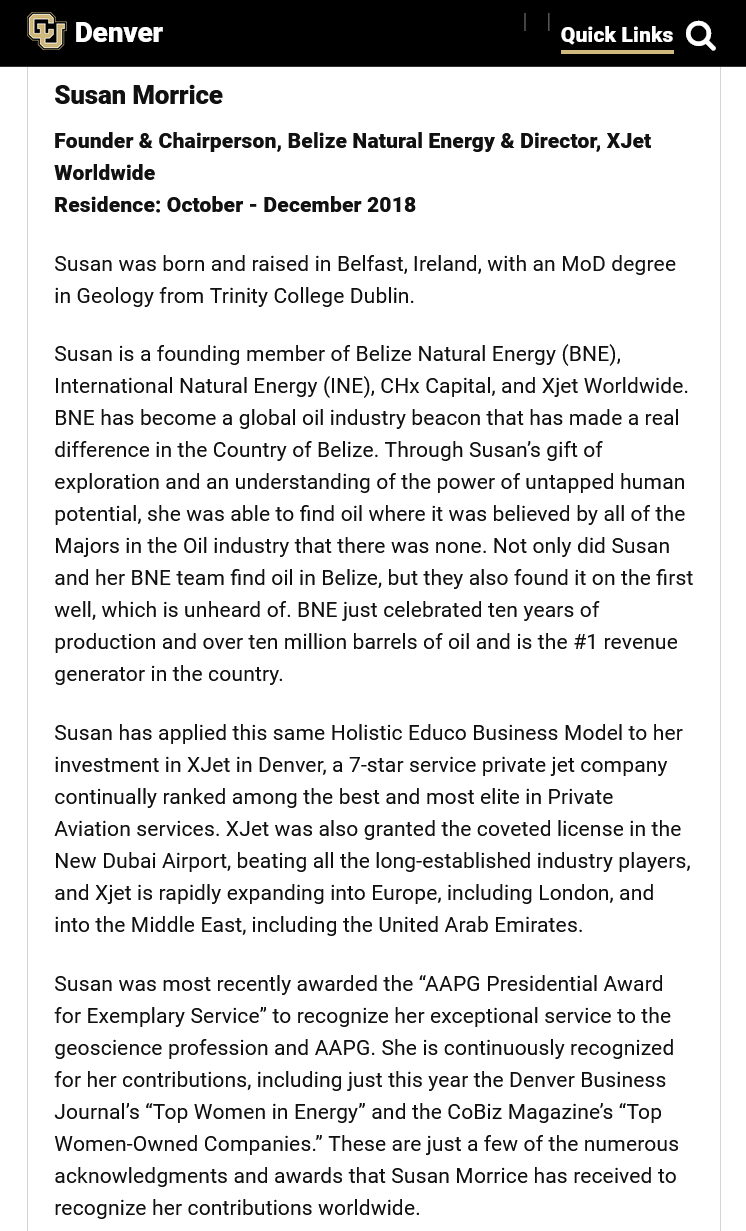 In Winter 2019 Morrice featured in the American Institute of Professional Geologists (AIPG) Colorado magazine where she is photographed at an event mentoring students.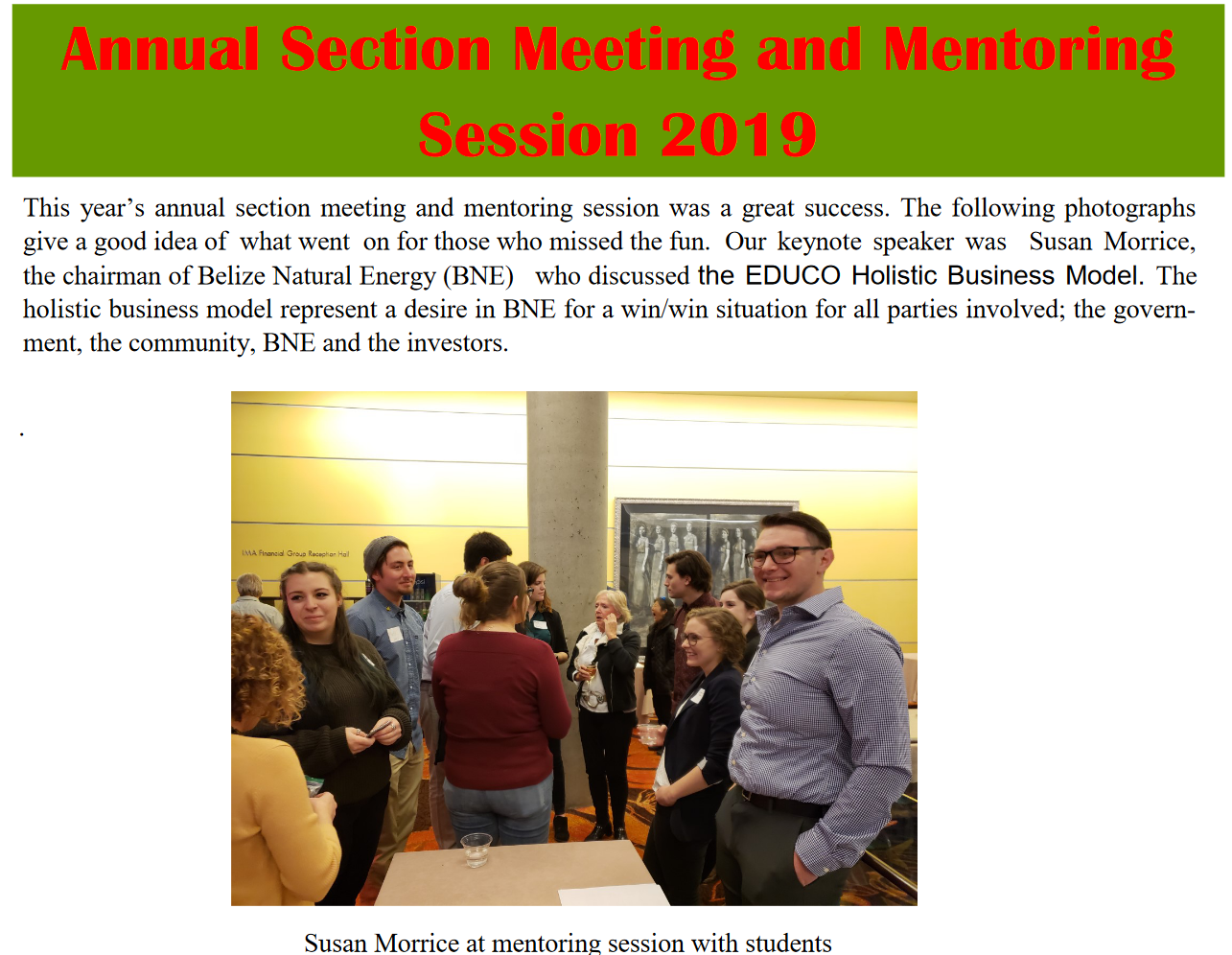 Not everyone involved in this meeting is happy with Morrice's attendence at this event when equipped with the knowledge of her work promoting EDUCO.
In May 2020 Morrice appeared on the Permian Basin Experience Podcast where she promoted the EDUCO Seminar. The interview was recorded at SEG 2019, held in San Antonio in September 2019.
As Covid-19 lockdowns forced everyone to stay at home, the promotion of the EDUCO Seminar moved online. In April 2020 Morrice featured on the "Inspiring Hope & Creativity in Crisis Times" conference, an online event featuring many recognisable EDUCO faces! The event promised to let us hear from "some of the most creative, inspiring achiever's in the world who will share how to fast track your life and business during and post the Covid19 Crisis".
These speakers were: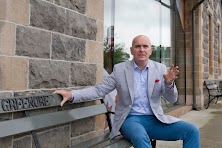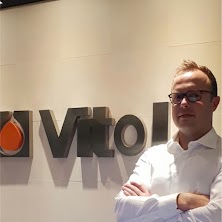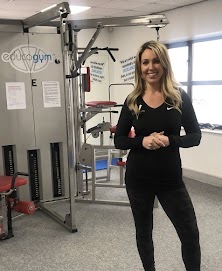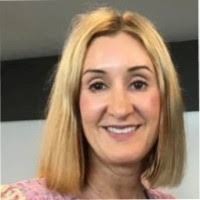 These individuals were described as:
They have been through the highs and the lows in life and business and have discovered a secret formula.

What is this formula…it's so simple most of the world is missing it!

"Inspiring Hope & Creativity in Crisis Times" Online-event, April 2020.
Each one of these speakers has claimed online to have attended an EDUCO Seminar.
In June 2020 Morrice appeared on the Oklahoma City Geological Society YouTube channel where she promoted the EDUCO Seminar
In June 2020 Morrice appeared on Stephanie Woollard's YouTube channel to promote "Dr" Tony Quinn and the EDUCO Seminar
On the 9th June 2020 Morrice appeared on an American Association of Petroleum Geologists (AAPG) Webinar where she promoted the EDUCO Seminar
In August 2020 Morrice appeared on Stephanie Woollard's YouTube channel in a recording of a Zoom conference where dozens of residents of Melbourne were sold the idea of the EDUCO Seminar
In April 2020 Morrice appeared on the "POWERful Women" podcast where she talked about the EDUCO Seminar:
In November 2020 Susan Morrice appeared with her protégé Stephanie Woollard on a Rotary Club (Melbourne) YouTube video where they promoted the EDUCO Seminar.
This event was promoted by the Melbourne Rotary Club, who kindly included a link to the EducoWorld website! The event included the remarkable sight of Susan Morrice repeatedly losing some teeth!
In February 2021 Morrice spoke at the Energy Institute's IP Week where she promoted "Dr" Tony Quinn and EDUCO
On 17 April 2021 Morrice appeared on an Educo Gym YouTube video.
In the video Morrice claims the chief of Police of Belmopan, Howell Gillett, attended the EDUCO Seminar and reduced crime by 52%!
Jacqui Murphy refers to Belize Natural Energy (BNE) being mentioned in the book "The Secret".
On 23 April 2021 Susan Morrice appeared on the Society of Exploration Geophysicists' (SEG) YouTube channel where she promoted the discredited EDUCO model.
The video was hosted by Allen Bertagne, Technical Coordinator of SEG Evolve and accompanied by Mike Forrest.
SEG Evolve is "an SEG Program for Students and Early Career Professionals".
In the interview Morrice highlights Khalid Belisle, a Mayor of Belize capital Belmopan. Belisle also features on the Educo World website.
On 17 October 2021 Susan Morrice featured on Sherlet Lopez's YouTube channel where she again spoke about the EDUCO Seminar, and highlighted a photoshopped image of her next to "Dr" Tony Quinn in a book written by Tony Quinn's associate Patricia Fitzpatrick's daughter Emma Maree "The Magic In You".
Lopez fronts the BNE Trusts "Dare To Dream" Entrepreneurs programme which offered winners "Specialised Training".
In November 2021 the winners of the BNE Trust's "Dare To Dream" Entrepreneurial programme were announced, and the EDUCO logo featured heavily.
In the video, along with Morrice, is Sherlet Lopez and Albert Garcia, chairman of the BNE Trust.
Garcia says in the video that the Top-5 Winners were to be offered "Specialised Training" which was described as something Susan Morrice has "attended" and Garcia has "gotten". Was this the EDUCO Seminar?
On 11 December 2021 Morrice attended the "A Day of New Beginnings: Shifting Mindsets to Ignite Growth" conference in Atlanta hosted by "Zambians Promoting Leadership In America".
The organisers of this event were informed that Morrice may veer onto EDUCO territory and I like to think this why she was ushered to finish up before her time.
In February 2022 it was publicised that Morrice would feature on a Regis University livestream event titled "Executive Speaker Night Series: Susan Morrice, Co-Founder and Chairperson of Belize Natural Energy" hosted by Dr Luka Powanga.
I emailed Dr Powanga prior to the event a number of times to highlight that Morrice was highly likely to speak about the EDUCO Seminar and "Dr" Tony Quinn. As this event was for students at Regis University, I wanted to share my concerns with the host.
I reminded Powanga that Morrice stated in a video from a December 2021 event that it was he who introduced Morrice to Dr. Freda Mwamba Brazle of the Zambia Diaspora group.
I emailed Powanga again to highlight that the Geological Society had removed from their YouTube channel an interview with Morrice where she talked about the EDUCO Seminar upon this bring brought to their attention. Powanga replied that he was unable to view a deleted video.
Morrice has subsequently appealed to the Geological Society for the clip.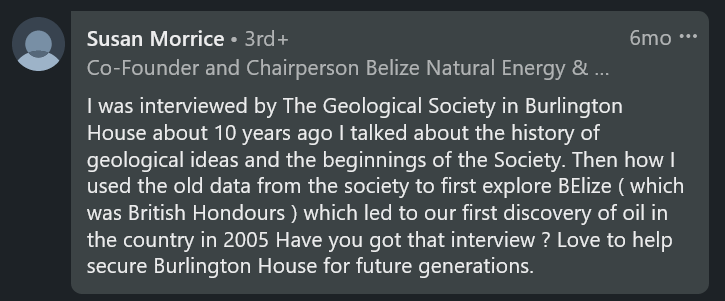 I received the following email from Powanga the night before, in error, when he confused me for Morrice:

From: Powanga, Luka <████████@regis.edu>
To : You
Date: Tuesday 22 February, 2022 08:09

Susan:
Do not worry about it. It was just an FYI so you aware.
I apologize for missing your call. My phone was charging.

Luka

Email sent in error by Powanga to me.

He then wrote to me again at 08:13:

My apologies for the wrong name. I meant ███████.

A follow-up email (4-minutes later) from Powanga once he realised the mix-up

During the event Morrice confirmed it was Powanga who introduced Morrice to the Zambia Diaspora community in America:
I managed to get a question posed to Morrice during the event:
On 28 February 2022 Susan Morrice announced a livestream to commemorate International Women's Day 2022.
This announcement was made on the "Women in Oil And Gas Association (WOGA) – Colorado" YouTube channel.
Morrice announced the Belize Prime Minister would attend, not once, but twice.
Morrice makes it clear in the video that the EDUCO Seminar is for leaders and teenagers.
On "International Women's Day" on 8 March 2022 the "Women in Oil And Gas Association (WOGA) – Colorado" hosted a livestream from BNE's offices in Belize.
Despite assurances the Prime Minister of Belize would attend it was explained he could not attend, but Tony Quinn's associate Patricia Fitzpatrick was an alternative Special Guest!
Fitzpatrick is introduced as an investor from the beginning, despite newspaper reports that she was ejected from a Shareholders meeting in 2011.
Before the meeting, an associate of Mr Quinn's, Patricia Fitzpatrick, urged arriving shareholders not to attend. She handed them a note from the board which said their attendance would have significant legal and financial implications for the company. Some left but the majority entered the meeting room.

Ms Fitzpatrick then sought to attend herself, saying she was a shareholder, but was told to leave. A brief standoff ensued, after which she consulted with a lawyer and then left the room.

"Investors in new move to oust yoga guru Quinn as oil firm director", Irish Times / Paul Cullen, 4 March 2011
On 10 March 2022 Albert Garcia, Chairman of the BNE Charitable Trust, spoke on Love FM's "Belize Watch" about how 1% of BNE's oil revenue is used to fund the BNE Trust which offers "Specialised Training" to Belizeans.
Garcia explains the purpose of the BNE Charitable Trust:
They came up or established the idea of the trust to allow Belizeans to have the same opportunity they they had, which was to – over time – attend a very special training which was called the EDUCO Seminar.

Albert Garcia, Chairman of the BNE Charitable Trust, explaining the purpose of the Trust.
In March (15-16) 2022 Morrice appeared at CARVIS (Caribbean Oil and Gas Virtual Summit) 2022 where she spoke about EDUCO and its influence on the country of Belize.
Morrice made the claims that the discredited EDUCO Model has transformed the Prison System, Crime Prevention and Entrepreneurship in Belize.
In August 2022 Morrice appeared at the Zambian Disapora "Shifting Mindsets" conference in Zambia.
The event was organised by Dr. Freda Mwamba Brazle, who was introduced to Morrice by Dr. Luka Powanga. Mwamba Brazle has claimed on LinkedIn that Morrice had been involved in facilitating aspects of the conference.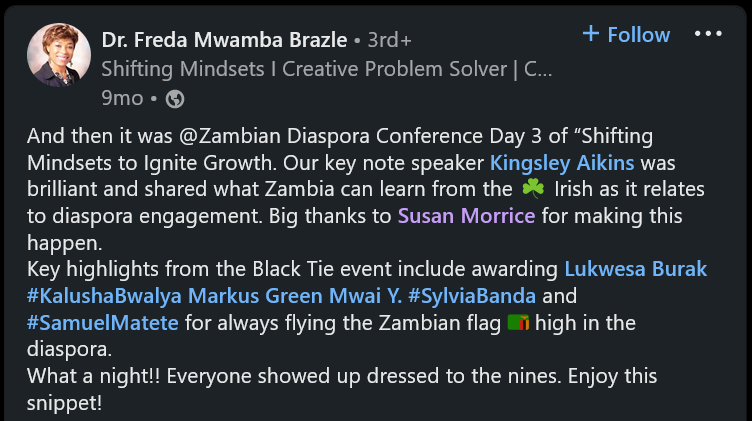 In attendence was President of Zambia Hakainde Hichilema and ….
… Patricia Fitzpatrick.
It was announced towards the end of the first day that Susan Morrice would feature on a panel hosted by BBC News anchor Lukwesa Burak.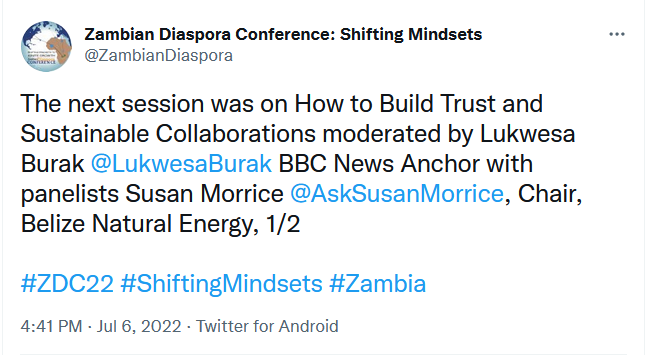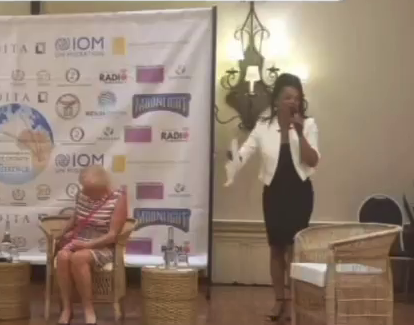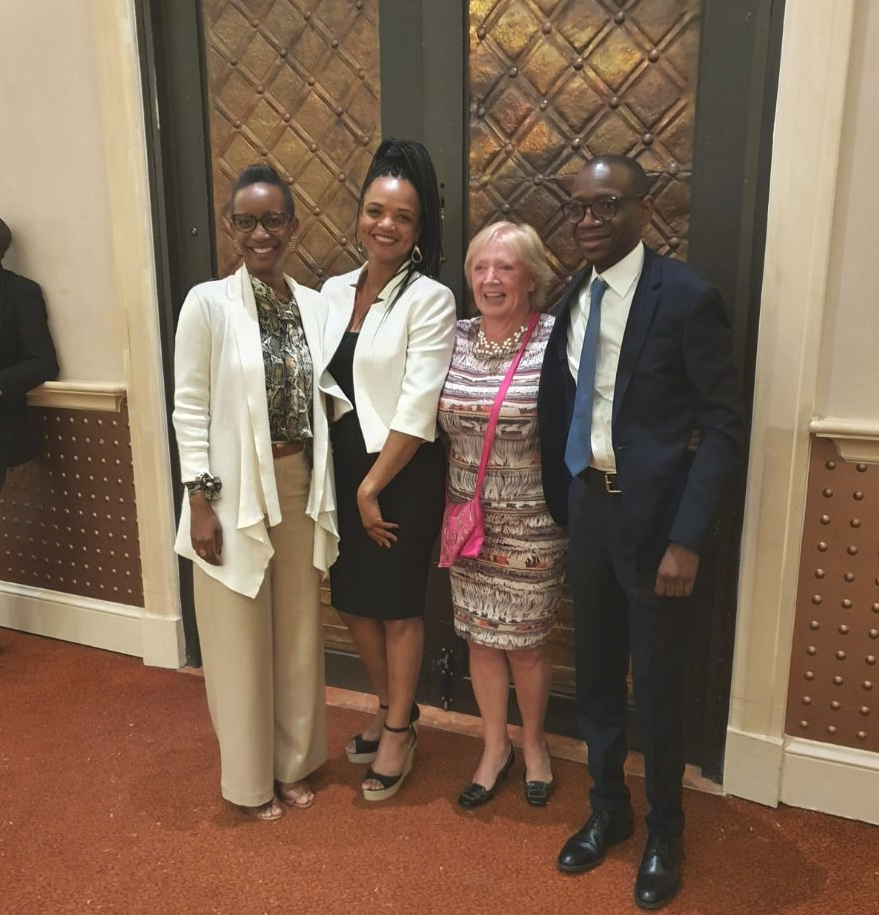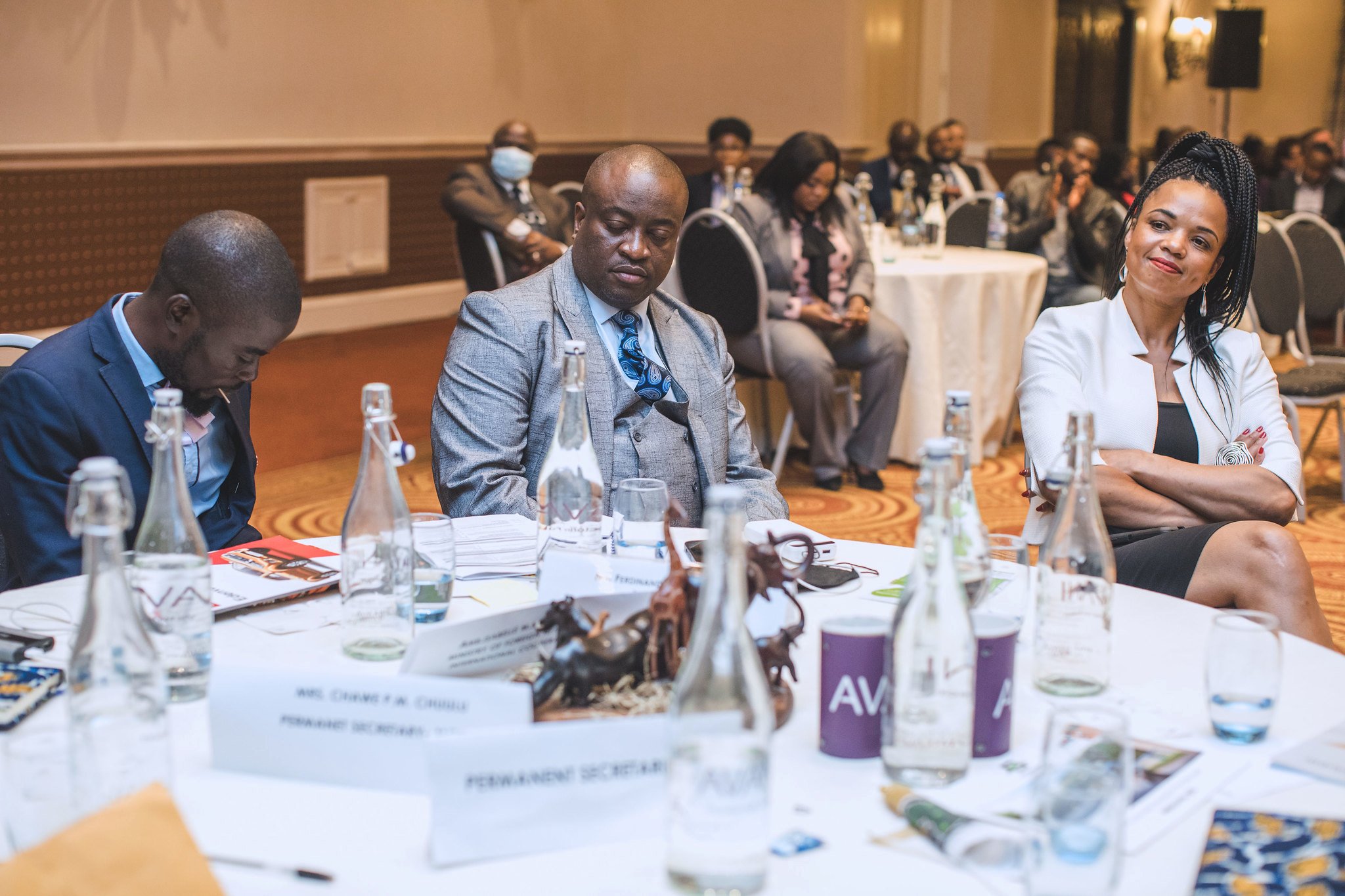 This was something of a surprise given that Viscount Colville spoke in the UK Parliament's House of Lords in 2014 regarding efforts to "Chill Free Speech" in relation to the harassment and intimidation meted out toward the colleagues of Burak who had produced the 2012 BBC Spotlight programme "Belize Oil" that explored "Dr" Tony Quinn's influence on Morrice's business matters.
As can be seen above, Stephanie Woollard features in a number of online-events where Morrice promotes the EDUCO Seminar. Woollard is forthcoming in promoting the "benefits" of attending the Seminar. But Woollard is not exclusively part of a double-act.
In June 2020 Woollard posted this video on her YouTube channel. It shows clear promotion of the EDUCO Seminar with three other people.
The video features Woollard, Educo Gym trainer Mark Young, "Bioneer" Petter Sellberg and Woollard's sister Catherine Woollard.
Interestingly, with the Woollards, there may be a family-fanaticism with EDUCO as their mother Nora Woollard can be found interacting with EDUCO related Facebook posts.
In the video all four gushingly promote how the EDUCO Seminar changed their lives. The video was published as international Covid-lockdowns came into place and online-interactions became normalised to an extent they had not before.
We have seen in recent years, since the pandemic-lockdowns, the emphasis in online-recruitment by nefarious groups (see Teal Swan and Liana Shanti for examples).
In March 2021 what seemed to be an online Educo group emerged. Long-term members of EDUCO (including Mary Ann Malone and Patricia Fitzpatrick) were named as new members of Richard Murfitt's "Big Life Club".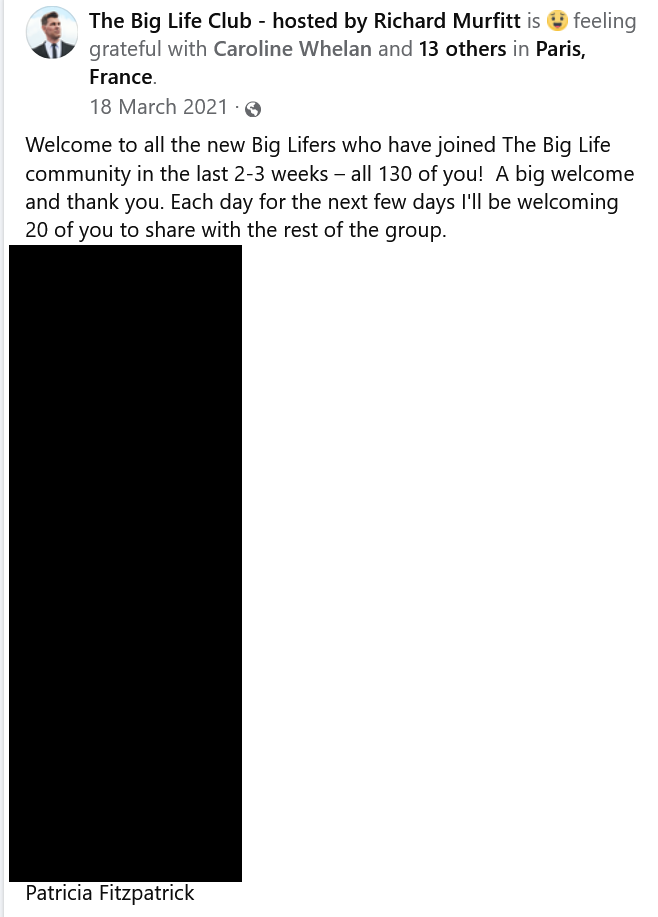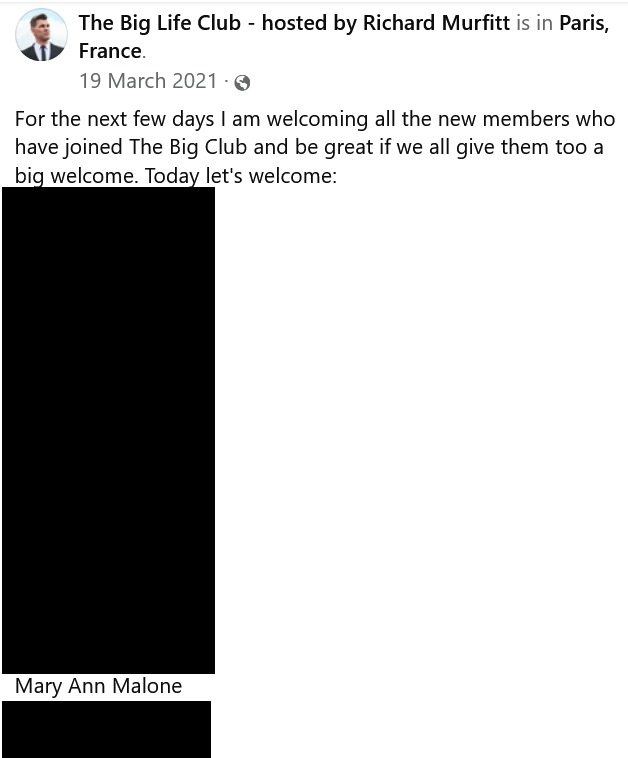 Murfitt himself was not shy in declaring his admiration for Dr. Tony Quinn:
I have had the privilege of meeting and working with who I believe to be the most powerful and consequential spiritual and mind masters of our lifetime – Dr Tony Quinn. I believe this man has the highest level of consciousness of anyone currently living on the planet and has been the most influential person that led me and hundreds of others to self-actualisation. Check out http://www.educoworld.com.

Richard Murfitt declaring his admiration for Dr.Tony Quinn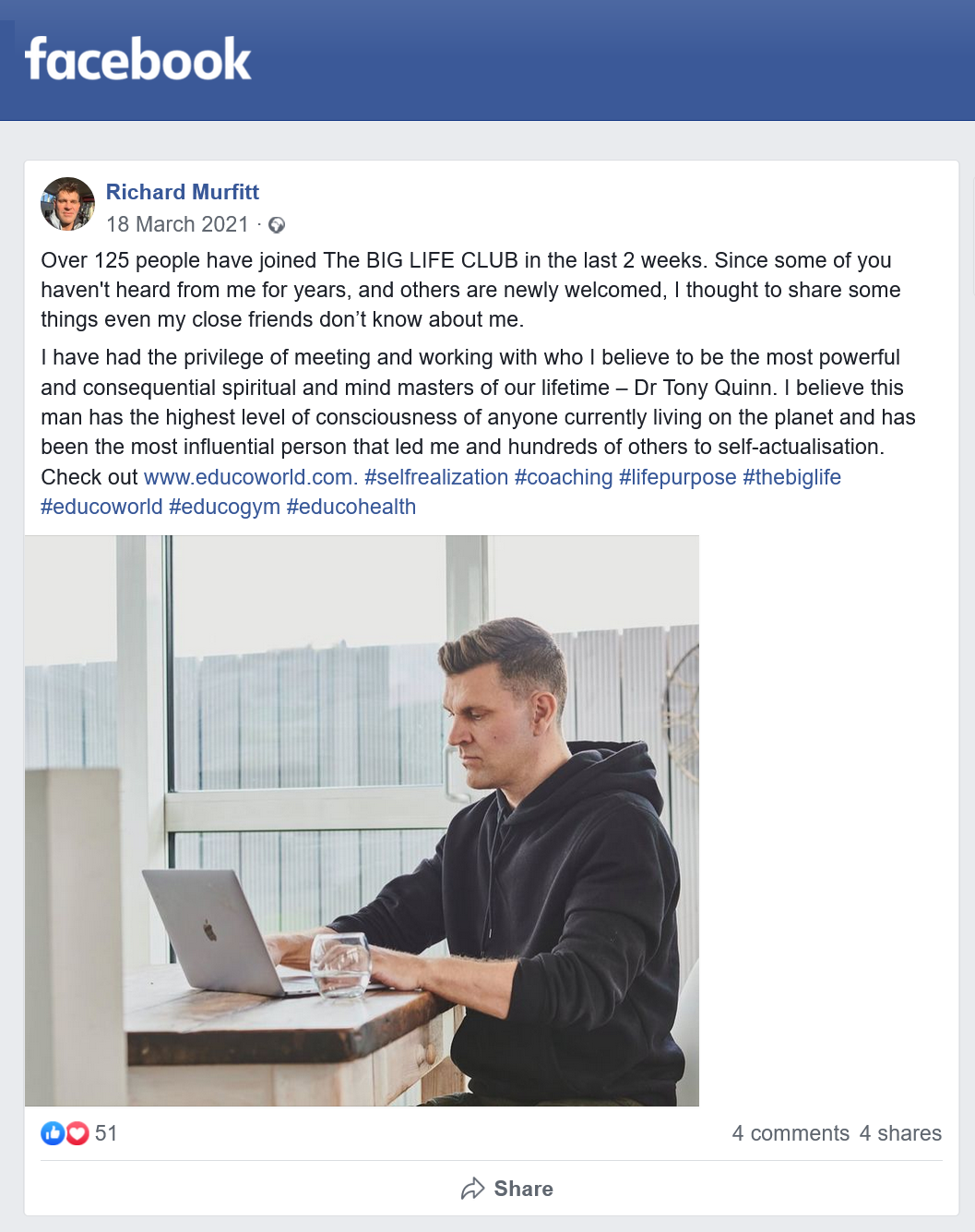 And it is of no surprise to see that Morrice has encouraged Murfitt.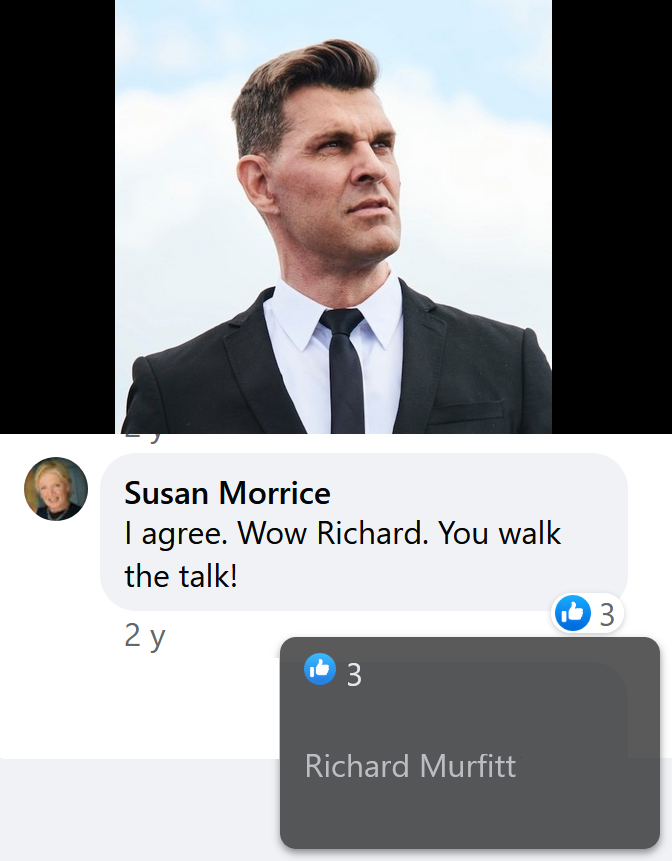 As did Stephanie Woollard.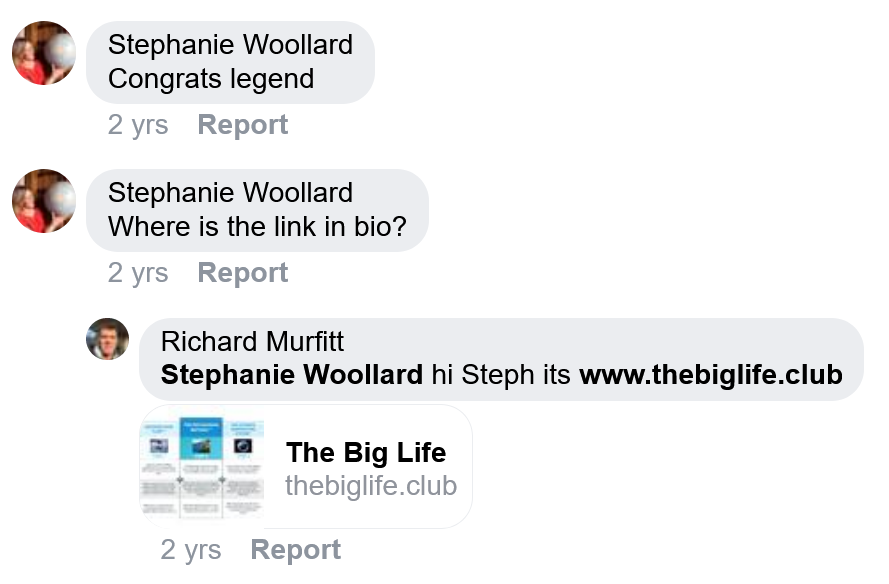 Also Stephanie Woollard can also be seen in this thumbnail promoting Susan Morrice for AAPG President-Elect 2020-21.
Woollard can also be found promoting the EDUCO Seminar on LinkedIn.
In 2019 Woollard was found to sharing her passion for the EDUCO Seminar with Morrice and Linda Keen: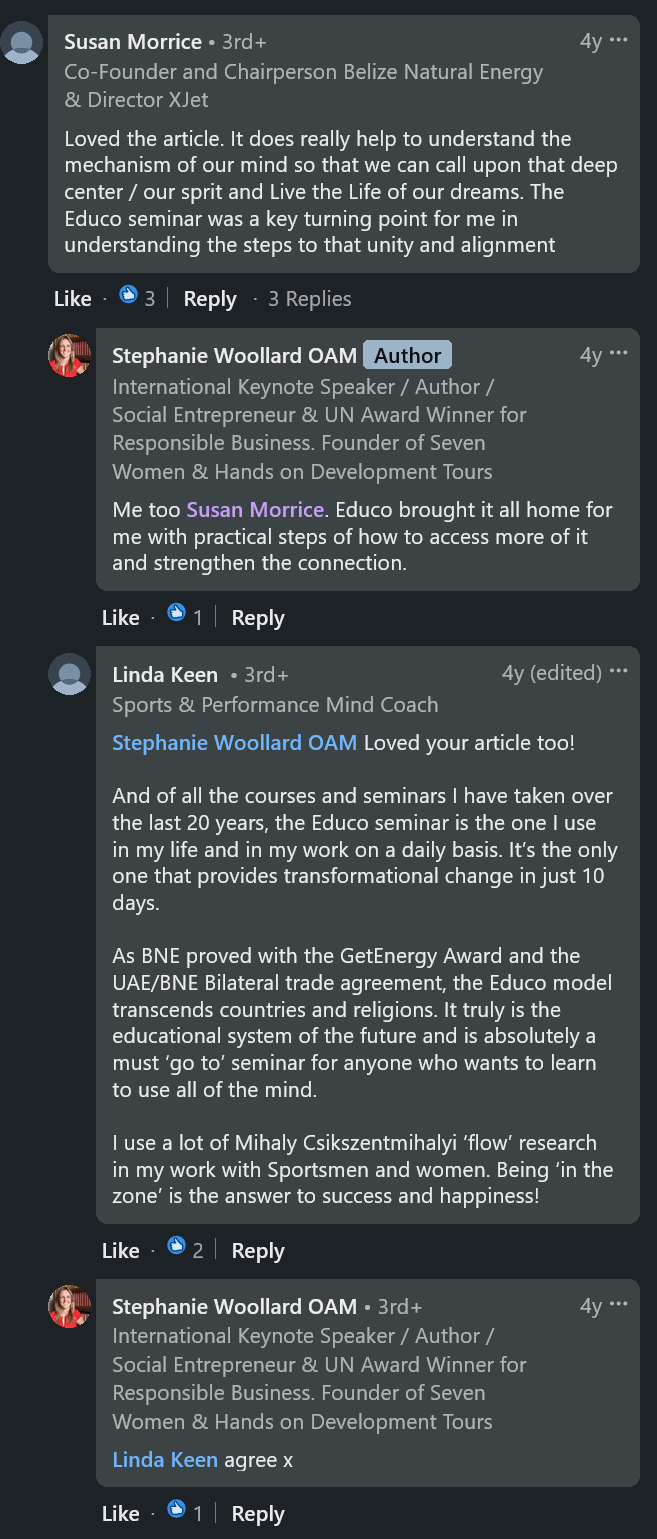 Linda Keen is a BACP registered Psychotherapist who qualified under "Dr" Tony Quinn and has been vocal in promoting Quinn's discredited methods.
Later, in March 2021, Woollard stated the EDUCO Seminar changed her life in a post commemorating International Women's Day 2021:
Much of the above I have believed and experienced to be true in the creation of SevenWomen.org, the charity I founded, but it was not until I participated in the Educo Seminar that I experienced the power of ourselves and experienced the connect in a whole different way. To nature, to ourselves to others. I would recommend this 10 day seminar to anyone to whom this article resonates and happy to share more resources I have on it until travel has opened up again.

Woollard's International Women's Day 2021 post where she promotes the EDUCO Serminar.
Susan Morrice has been quite busy promoting the EDUCO Seminar in recent years. However since her Zambia trip there hasn't been a public proclamation praising Tony Quinn.
Could her recent silence on Tony Quinn be because she knows people are talking about her past record of promoting the EDUCO Seminar and she is now contemplating how she is perceived?
Morrice was 70 last year – perhaps she is worried about her legacy.
She has left it very late in the day to have a change of heart and to realise the manipulations of the Mucky Messiah.
Can Morrice break free as her BNE co-founders did?
Her continued support for Tony Quinn must feel like perpetual gaslighting to all those who have Survived abuse from Quinn.
Is there an empathic heart hidden away inside Morrice or will she forever be known as Tony Quinn's more fervent promoter?
Time will tell. But I shan't hold my breath.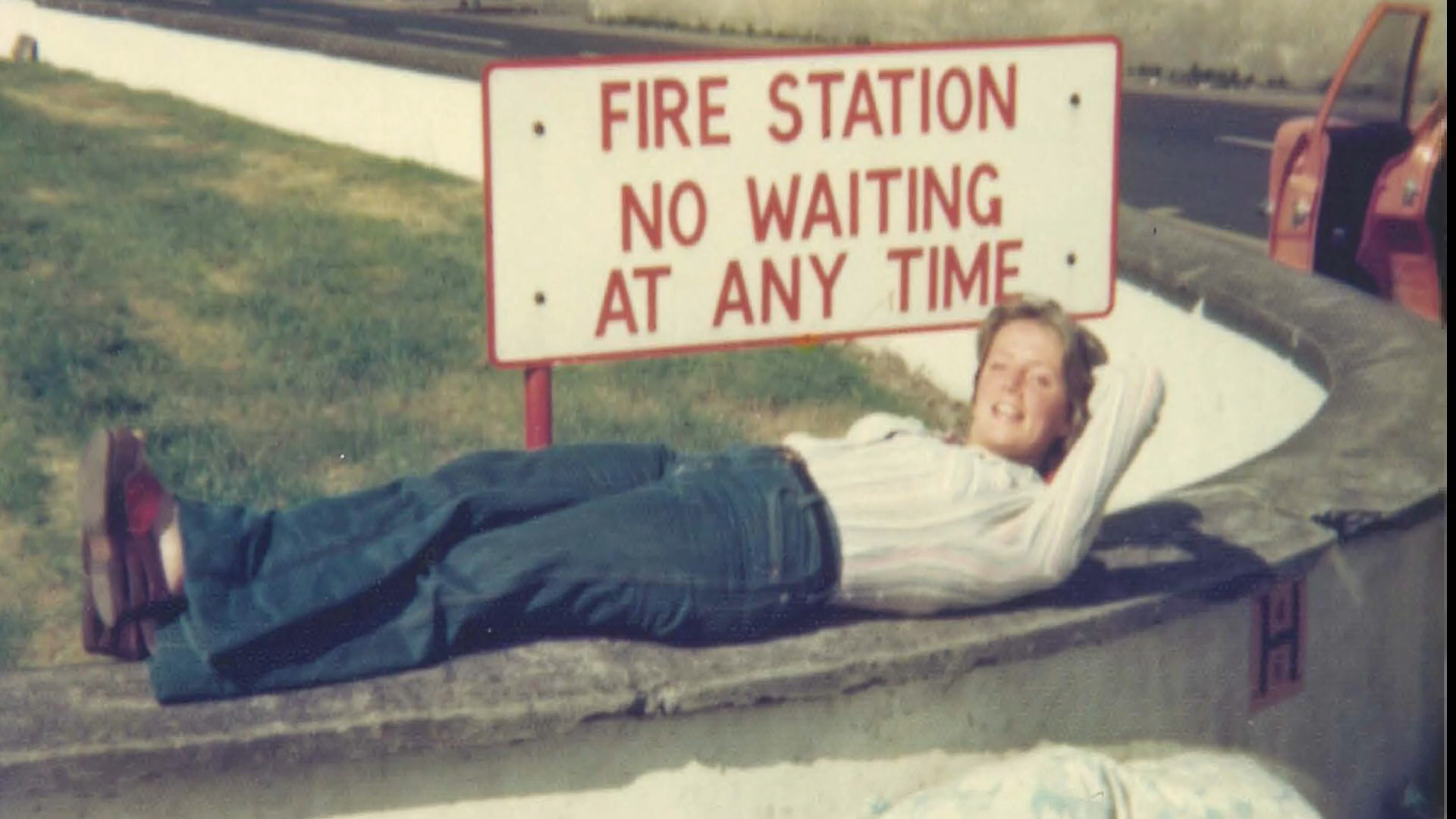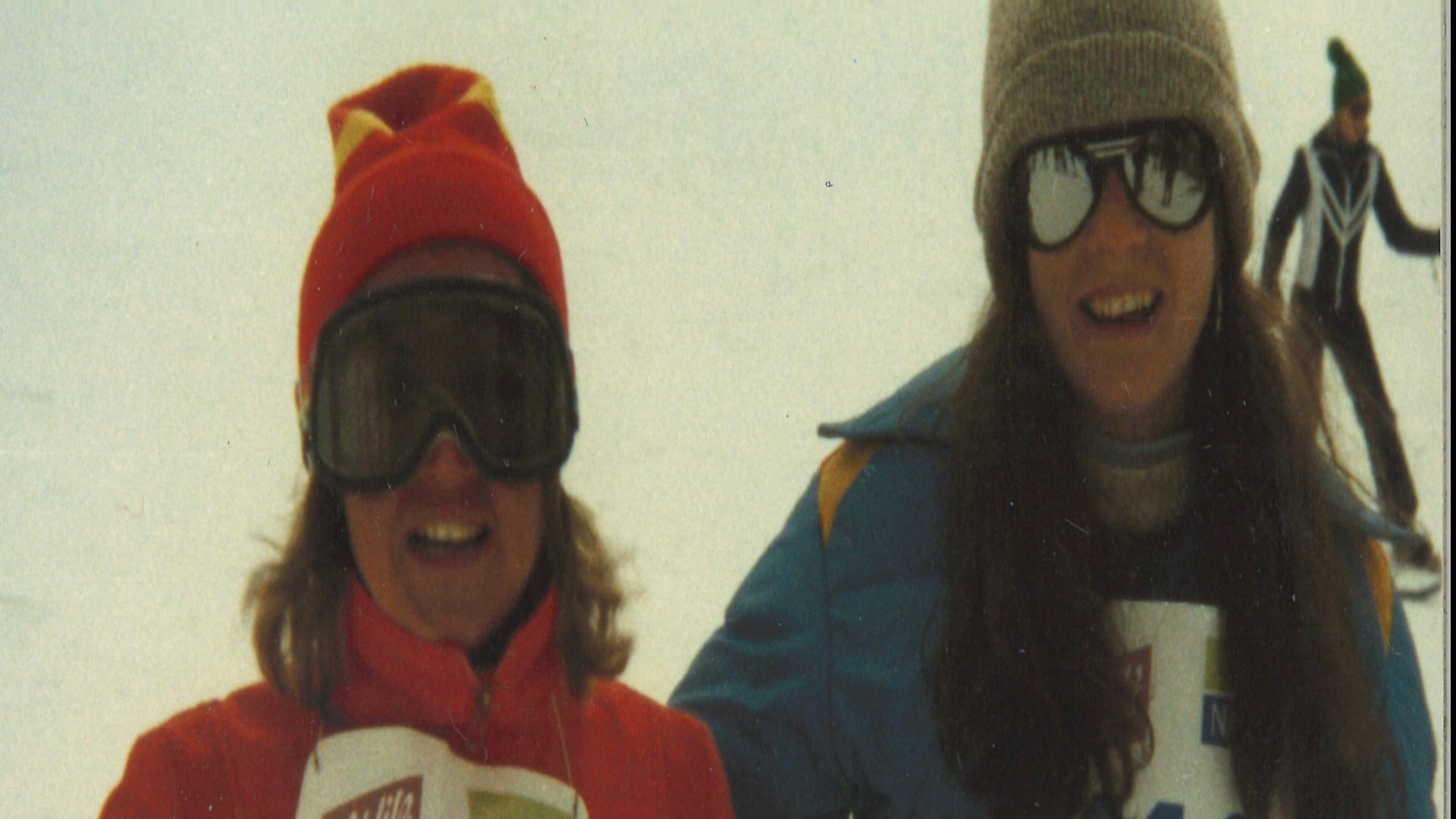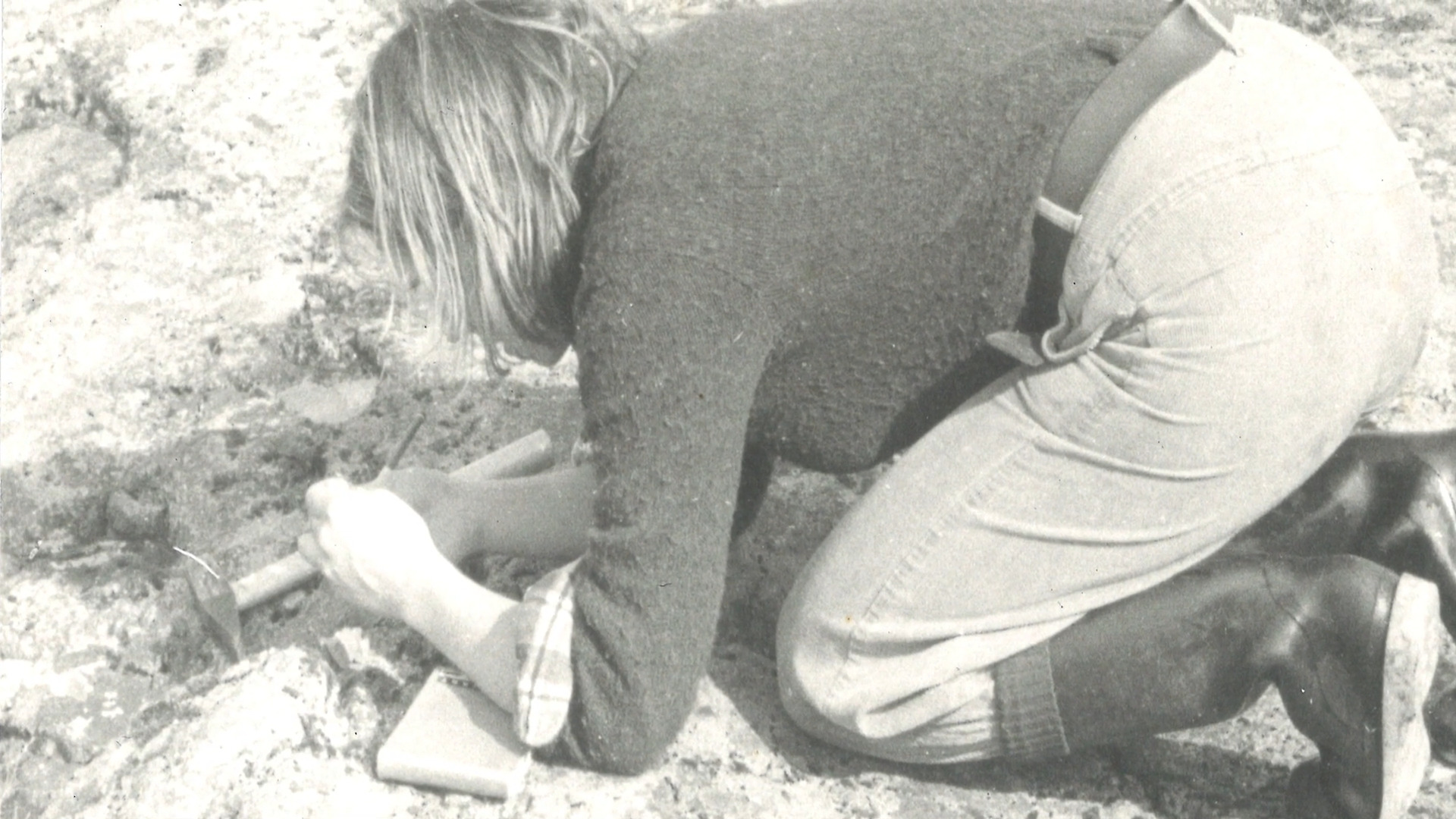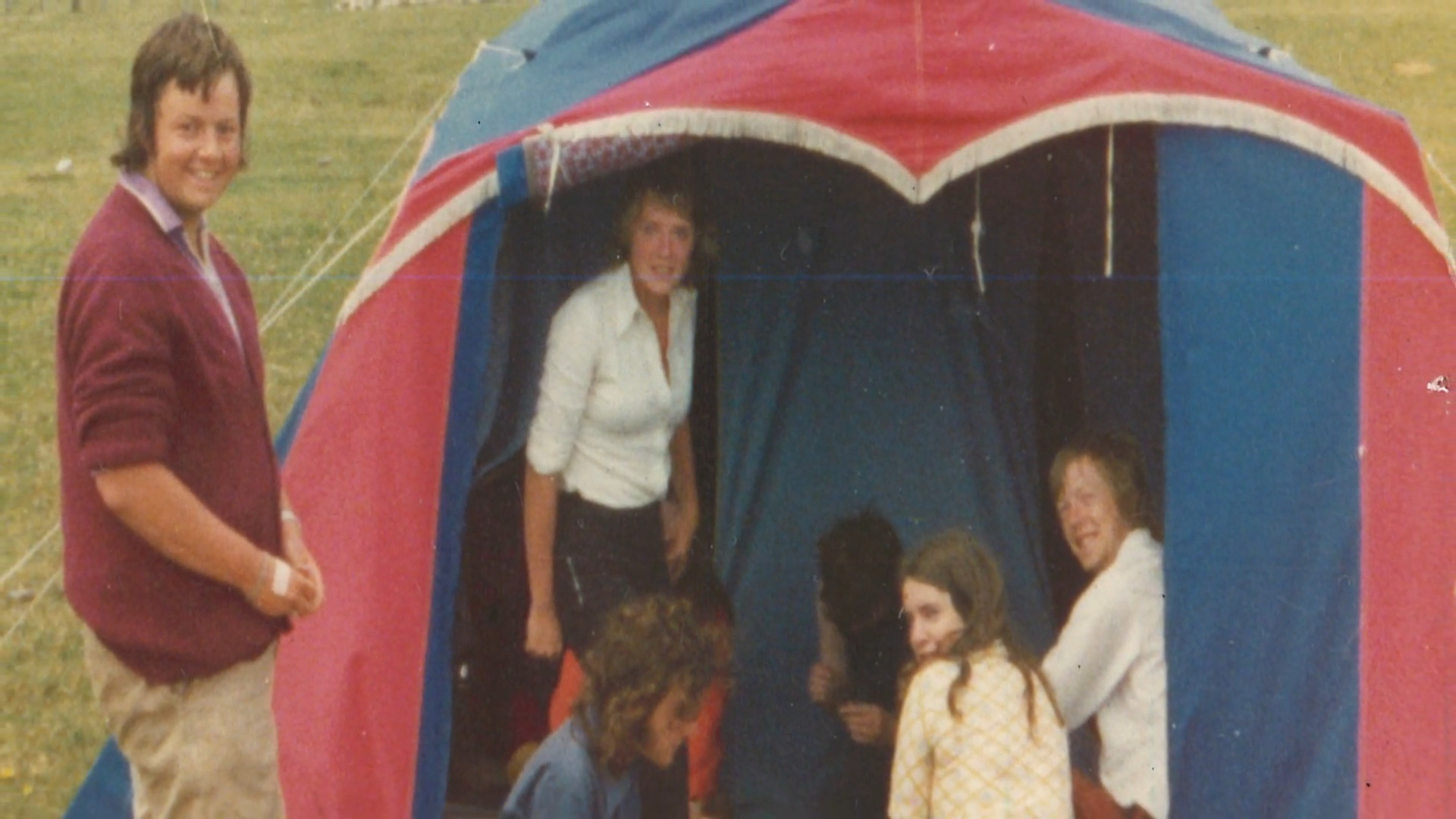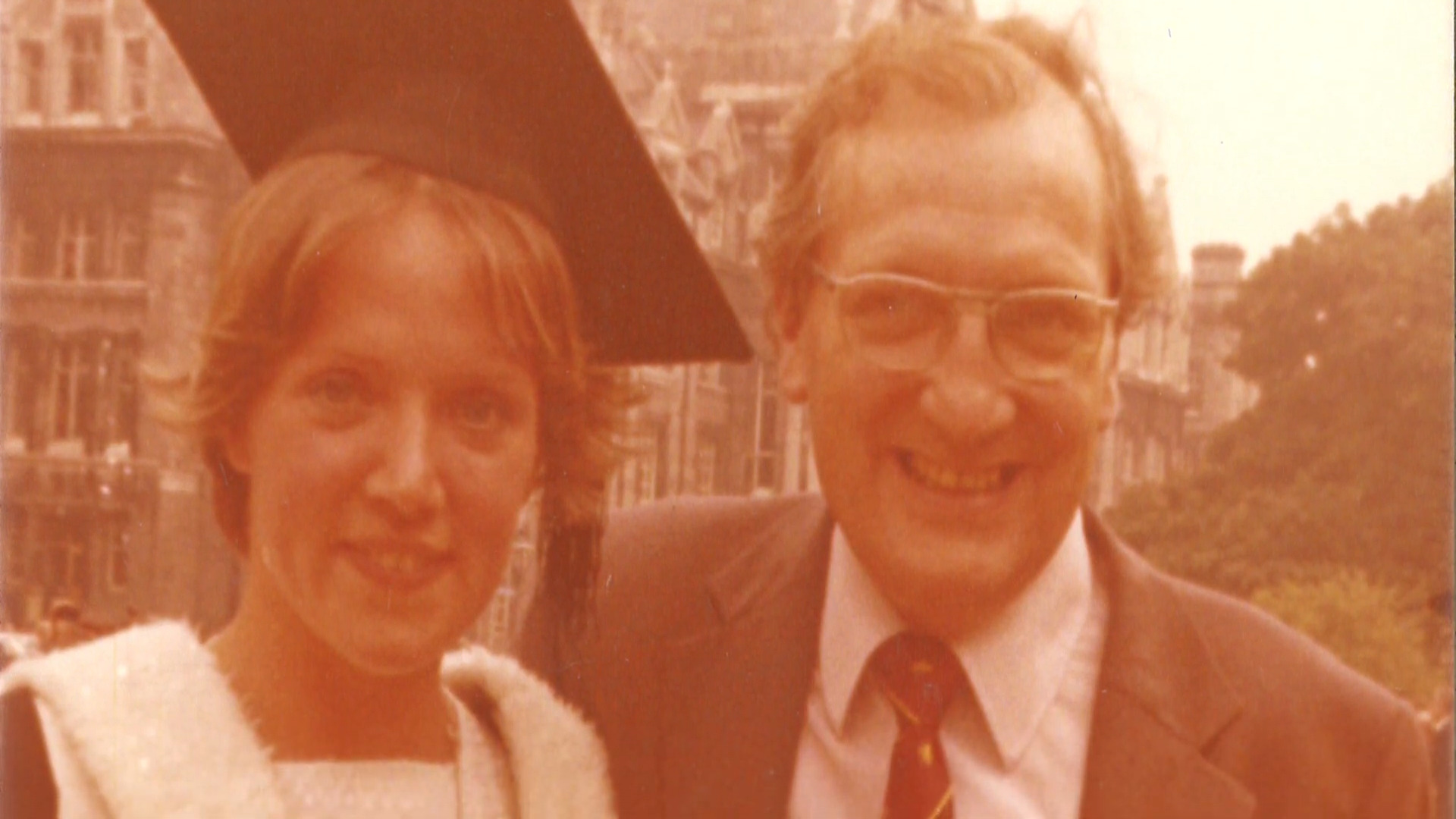 You can watch the 2012 BBC documentary about "Dr" Tony Quinn and his influence over Susan Morrice here:
More TV documentaries about "Dr" Tony Quinn and the EDUCO Cult can be found here.