"€6M-in-Debt Jim Jr Is All A Loan In Manson", Sunday World
Citywest Heir and Convicted Drink Driver Chased by AIB for Millions, by Nicola Tallant
Note: this newspaper article features Jim Mansfield Jr, Glen O'Callaghan and Tony Quinn
Mansfield sued after defaulting in bank loan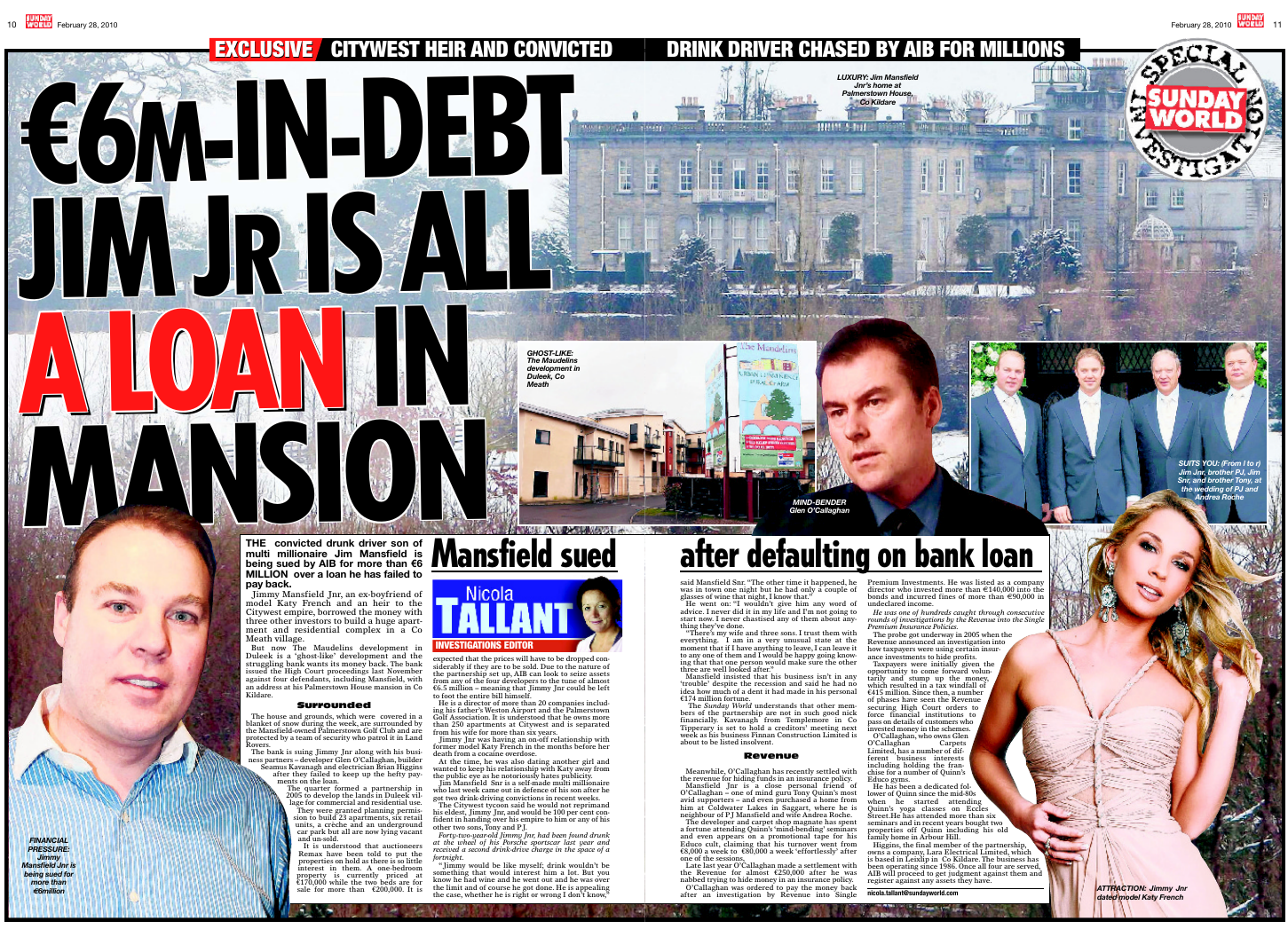 THE convicted drunk driver son of multi millionaire Jim Mansfield is being sued by AIB for more than €6 MILLION over a loan he has failed to pay back.
Jimmy Mansfield Jnr, an ex-boyfriend of model Katy French and an heir to the Citywest empire, borrowed the money with three other investors to build a huge apartment and residential complex in a Co Meath village.
But now The Maudelins development in Duleek is a 'ghost-like' development and the struggling bank wants its money back. The bank issued the High Court proceedings last November against four defendants, including Mansfield, with an address at his Palmerstown House mansion in Co Kildare.
Surrounded
The house and grounds, which were covered in a blanket of snow during the week, are surrounded by the Mansfield-owned Palmerstown Golf Club and are protected by a team of security who patrol it in Land Rovers.
The bank is suing Jimmy Jnr along with his business partners – developer Glen O'Callaghan, builder Seamus Kavanagh and electrician Brian Higgins after they failed to keep up the hefty pay-ments on the loan.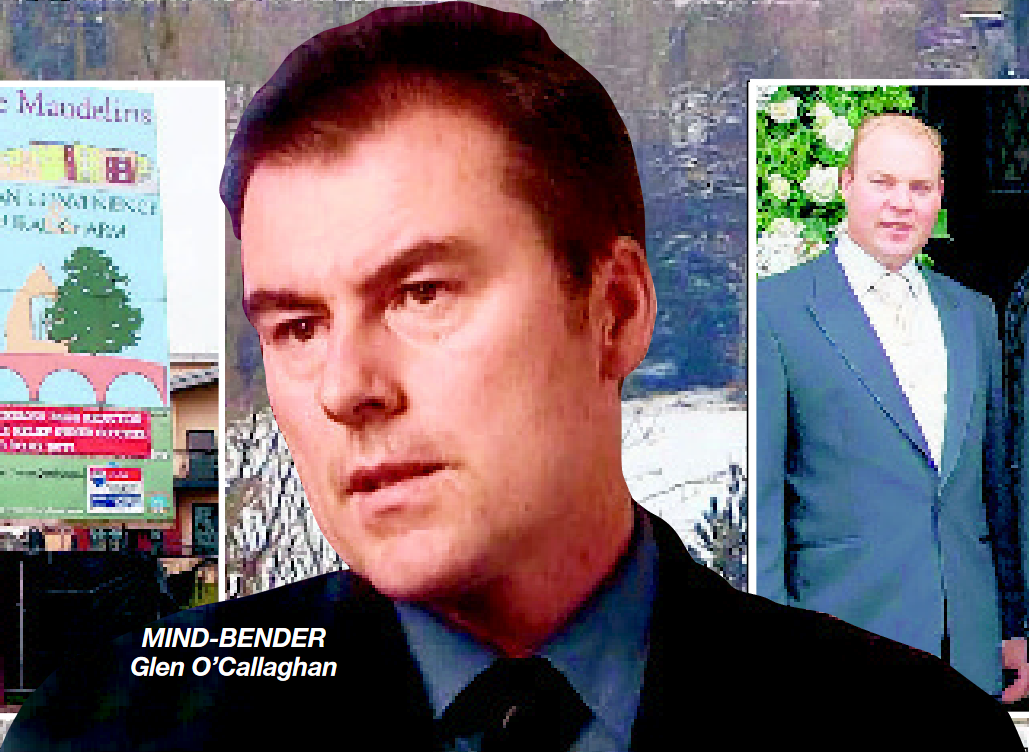 The quarter formed a partnership in 2005 to develop the lands in Duleek village for commercial and residential use. They were granted planning permission to build 23 apartments, six retail units, a crèche and an underground car park but all are now lying vacant and unsold.
It is understood that auctioneers Remax have been told to put the properties on hold as there is so little interest in them. A one-bedroom property is currently priced at €170,000 while the two beds are for sale for more than €200,000. It is expected that the prices will have to be dropped considerably if they are to be sold. Due to the nature of the partnership set up, AIB can look to seize assets from any of the four developers to the tune of almost €6.5 million – meaning that Jimmy Jnr could be left to foot the entire bill himself.
He is a director of more than 20 companies including his father's Weston Airport and the Palmerstown Golf Association. It is understood that he owns more than 250 apartments at Citywest and is separated from his wife for more than six years.
Jimmy Jnr was having an on-off relationship with former model Katy French in the months before her death from a cocaine overdose.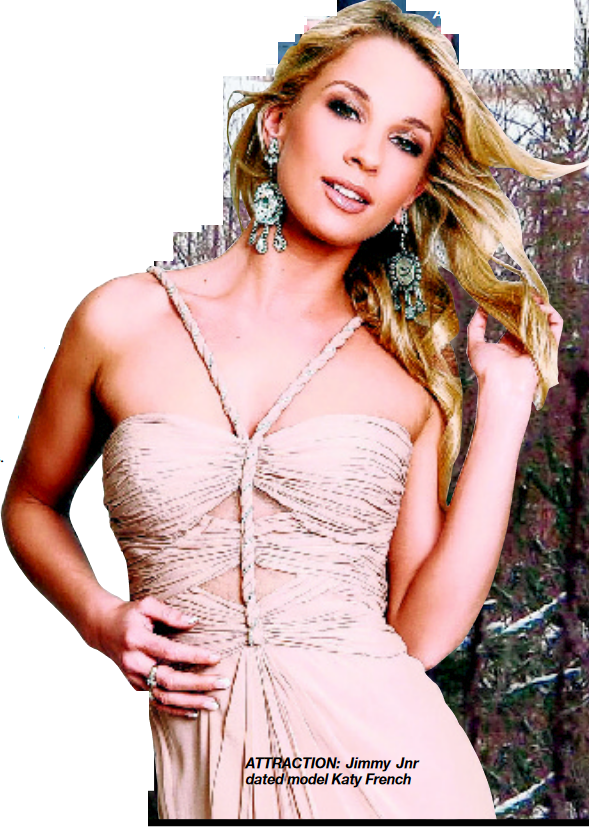 At the time, he was also dating another girl and wanted to keep his relationship with Katy away from the public eye as he notoriously hates publicity.
Jim Mansfield Snr is a self-made multi millionaire who last week came out in defence of his son after he got two drink-driving convictions in recent weeks.
The Citywest tycoon said he would not reprimand his eldest, Jimmy Jnr, and would be 100 per cent confident in handing over his empire to him or any of his other two sons, Tony and PJ.
Forty-two-year-old Jimmy Jnr, had been found drunk at the wheel of his Porsche sportscar last year and received a second drink-drive charge in the space of a fortnight.
"Jimmy would be like myself; drink wouldn't be something that would interest him a lot. But you know he had wine and he went out and he was over the limit and of course he got done. He is appealing the case, whether he is right or wrong I don't know," said Mansfield Snr. "The other time it happened, he was in town one night but he had only a couple of glasses of wine that night, I know that."
He went on: "I wouldn't give him any word of advice. I never did it in my life and I'm not going to start now. I never chastised any of them about anything they've done.
"There's my wife and three sons. I trust them with everything. I am in a very unusual state at the moment that if I have anything to leave, I can leave it to any one of them and I would be happy going knowing that that one person would make sure the other three are well looked after."
Mansfield insisted that his business isn't in any 'trouble' despite the recession and said he had no idea how much of a dent it had made in his personal €174 million fortune.
The Sunday World understands that other members of the partnership are not in such good nick financially. Kavanagh from Templemore in Co Tipperary is set to hold a creditors' meeting next week as his business Finnan Construction Limited is about to be listed insolvent.
Revenue
Meanwhile, O'Callaghan has recently settled with the revenue for hiding funds in an insurance policy.
Mansfield Jnr is a close personal friend of O'Callaghan – one of mind guru Tony Quinn's most avid supporters – and even purchased a home from him at Coldwater Lakes in Saggart, where he is neighbour of PJ Mansfield and wife Andrea Roche.
The developer and carpet shop magnate has spent a fortune attending Quinn's 'mind-bending' seminars and even appears on a promotional tape for his Educo cult, claiming that his turnover went from €8,000 a week to €80,000 a week 'effortlessly' after one of the sessions,
Late last year O'Callaghan made a settlement with the Revenue for almost €250,000 after he was nabbed trying to hide money in an insurance policy.
O'Callaghan was ordered to pay the money back after an investigation by Revenue into Single Premium Investments. He was listed as a company director who invested more than €140,000 into the bonds and incurred fines of more than €90,000 in undeclared income.
He was one of hundreds caught through consecutive rounds of investigations by the Revenue into the Single Premium Insurance Policies.
The probe got underway in 2005 when the Revenue announced an investigation into how taxpayers were using certain insurance investments to hide profits.
Taxpayers were initially given the opportunity to come forward voluntarily and stump up the money, which resulted in a tax windfall of €415 million. Since then, a number of phases have seen the Revenue securing High Court orders to force financial institutions to pass on details of customers who invested money in the schemes.
O'Callaghan, who owns Glen O'Callaghan Carpets Limited, has a number of different business interests including holding the franchise for a number of Quinn's Educo gyms.
He has been a dedicated follower of Quinn since the mid-80s when he started attending Quinn's yoga classes on Eccles Street.He has attended more than six seminars and in recent years bought two properties off Quinn including his old family home in Arbour Hill.
Higgins, the final member of the partnership, owns a company, Lara Electrical Limited, which is based in Leixlip in Co Kildare. The business has been operating since 1986. Once all four are served, AIB will proceed to get judgment against them and register against any assets they have.

Article sourced from Dialogue Ireland.