"Boom And Bust", Sunday World
"Guru Tony earns €50k a day while living it up with curvy lover in playboy paradise", Nicola Tallant & Padraig O'Reilly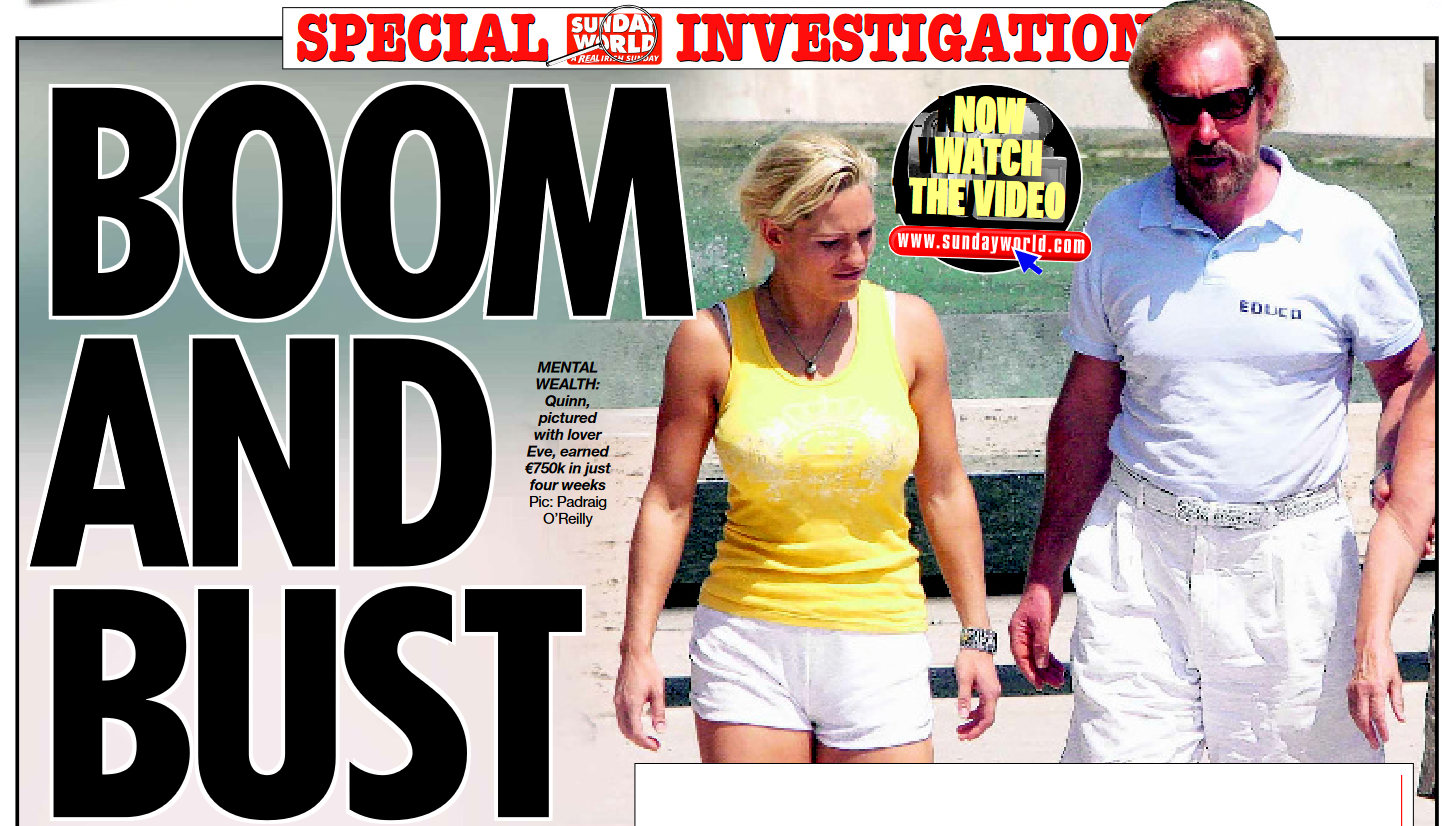 SELF-STYLED Messiah Tony Quinn is making a mind-blowing €50,000 A DAY while living it up in Monte Carlo with his busty blonde lover.
The Sunday World can exclusively reveal that the former butcher from Dublin has raked in a staggering €750,000 in just four weeks preaching to devotees in the super-rich principality on the French Riviera.

While the rest of us are braced for more economic woes and cuts, the guru (62) is staying in lavish luxury with his sexy young South African girlfriend (23), who he has re-named 'Eve'.
But he was not willing to talk about the complaints of disgruntled former followers who say they have forked out fortunes to hear his wisdom but got nothing in return.
When approached by Sunday World reporters as he strolled down the Monte Carlo boardwalk with Eve, the playboy prince of Monaco also refused to confirm his disciples' belief that he is the reincarnation of Jesus Christ.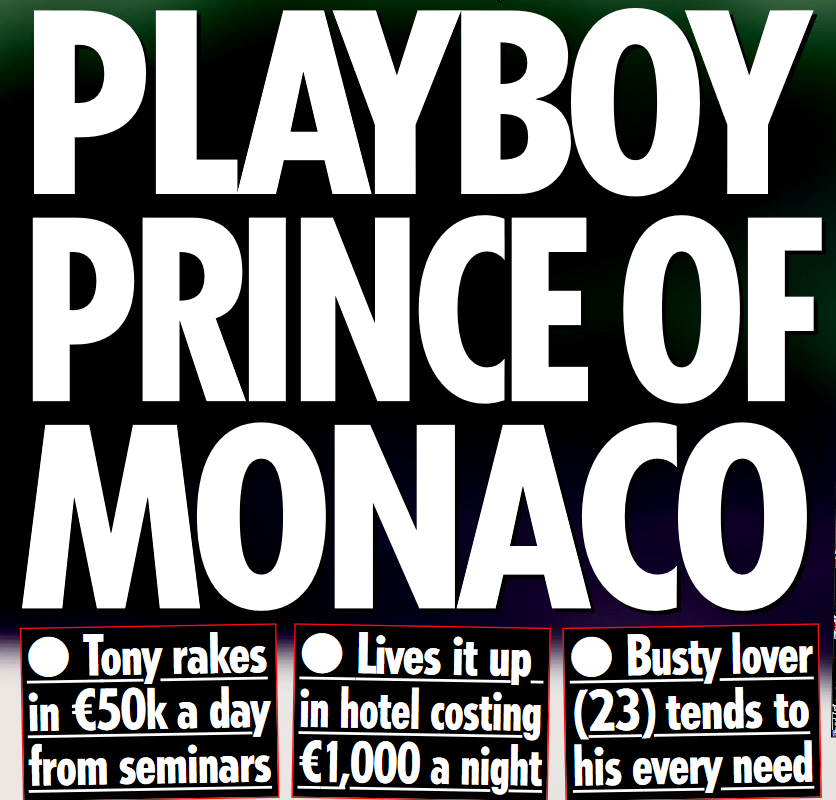 MILLIONAIRE Messiah Tony Quinn looks every inch the Monte Carlo playboy with his sun-bleached hair and 23-year-old busty blonde lover, Eve.
And amid the super wealthy, who splash their cash in Monaco in their top-of-the-range Lamborghinis, Jaguars, Bentleys and Rolls Royces, he could almost go unnoticed.
But this is the former butcher's apprentice from Arbour Hill in Dublin who has amassed a staggering fortune through his mind-bending cult.
And this week when we snapped him in Europe's most exclusive playground on the French Riviera, he should have had a lot to smile about.
While the Irish economy is on a knife-edge and the country braces itself for a €5 billion cut in public spending, Quinn is raking in €50,000 a day for working his magic in the sun.
But as our exclusive pictures show, Quinn (62) looks rather grumpy and wasn't too pleased when the Sunday World caught up with him and Eve in the tiny principality.
In fact, he totally refused to talk to us about the allegations that countless former followers have made about losing their homes and savings after getting involved with his Educo cult.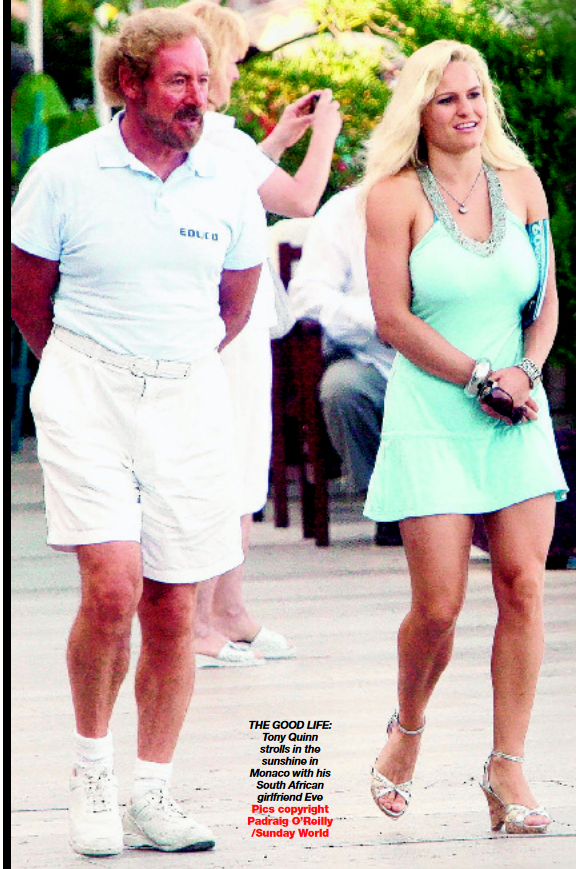 He even refused to confirm if he was indeed the re-incarnation of Jesus Christ, as those who are drawn into his fold are convinced.
Eve was even less friendly and pushed our cameras away.
A group of devotees has travelled to Monte Carlo, where he is imparting his wisdom at one of his self-improvement seminars while living in a luxurious five-star hotel and casino with his curvy South African girlfriend.
He met her four years ago when she attended a similar seminar in Morocco and he set his sights on her ample charms.
This week, a Sunday World investigation reveals how he will pocket almost €750,000 for four weeks work in Monaco, while dining out on caviar and high rolling in the famed casino.
Nine clients, mainly from Ireland, have forked out €63,500 for his 'Connections' seminar running this week at the exclusive Meridien Hotel.
Workouts
Another 11 handed over €16,500 for his 'Beginners' course last week.
They pay the money to spend just five hours a day in the guru's presence and have their auras cleared.
At the Meridien Beach Hotel in Monte Carlo they rise early for a fatty breakfast of rashers and pints of cream as part of a special keytone diet which is supposed to help them shed pounds.
They study CD recordings of Quinn at the pool before going to a nearby gym at 1.45pm where they do strenuous workouts under the watchful eye of Quinn, Eve and his devoted side-kicks, Mary Power and Jim Fitzgerald. Then they return to the hotel for a high-fat lunch and an afternoon session with Quinn focussed on self-improvement and success.
As part of the seminar, they will all have a personal aura reading which will be filmed by Fitzgerald in front of the rest of the group.
Quinn doesn't stay at the Meridien as he doesn't like to socialise with his clients and, instead, takes an apartment at the nearby five-star Fairmont Hotel with Eve and Mary Power.
There rooms cost up to €1,000 a night and Jaguars, Bentleys and Lamborghinis pull up every few minutes for the high rollers who love to show off their wealth.
Shortly before 7pm, Eve takes the short stroll back to the Meridien to collect her lover after his hard day's work.
This time, as our pictures show, she has shed her shorts and t-shirt for a revealing dress and high-heel shoes.
Quinn loves Monte Carlo and calls it his "Toy Town". He often spends his evenings there parading the leggy blonde South African around the roulette tables of the Casino, drop- ping €15,000 on a gamble and swearing that he never loses.
His favourite restaurant is Cafe de Paris on Casino Square, where a starter of caviar costs €380. Monaco is not for the financially faint-hearted. A simple chicken sandwich costs about €28 and a cocktail by the pool can set you back about €50.
His limited-edition vintage Jaguar XJS has been driven over from Ireland so he can use it to get out around town and he has also hired a black Mercedes and driver to ferry him around.
Monaco attracts the richest of the rich, who while away their days being pampered or who shop at the countless Gucci, Valentino and Armani haut couture stores that dot its cobbled streets.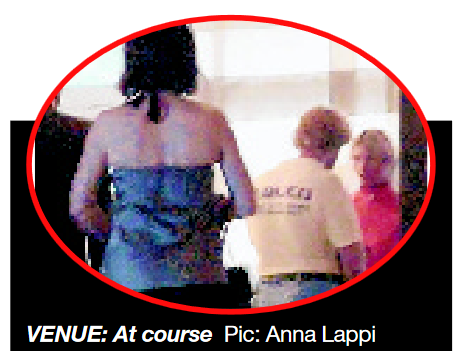 Her real name is Amelie Hattingh and got together with Quinn four years ago after taking part in one of his seminars in Morocco. She had been signed up in London and asked to give him a bag of his favourite Pink Lady apples on her arrival in Agadir.
Insiders say that Quinn recognised the then 19-year-old's charms, christened her Eve and invited her to spend Christmas with him in his home in Dublin.
She now lives with him at his base in Paradise Island in the Bahamas and caters to his every need, often rising early to cook leavened bread for his breakfast.
Eve is part of an entourage which travels everywhere with the guru.
She even shares their home with two of his most devoted followers, who live in an annex off the main apartment. They are Mary Power, a 60- year-old former close confidante of Quinn and trained nurse, and Jim Fitzgerald, a long-time devotee who films, records and catalogues every word of wisdom that comes from his mouth.
Power is described by some as Quinn's 'slave' and even spent years looking after his ageing parents while he t ravelled the world. He once told her she was the re- incarnation of Mary Magdalene.
The pair are also in Monaco for Quinn's 'Connections' seminar.
The group will head back to his exclusive home on Ham Haugh Island on the Thames in London at the end of the month and from there will travel to Dublin.
Quinn, a tax exile for years, earns up to 98 per cent of his enormous income through Ireland from a net- work of health shops, gyms and seminar sales.
Charmed
In August or September he will host a day-long free seminar exclusively for those who have attended one of his pricey courses in a bid to encourage them to part with more money.
His is a charmed existence but as our pictures show, Quinn appears to be feeling down on his luck.
While crowds of up to 60 and 70 have been attending his €16,500 beginners' seminars in the past, just 11 turned up in Monte Carlo – a sign that his popularity is waning as a result of recent exposés.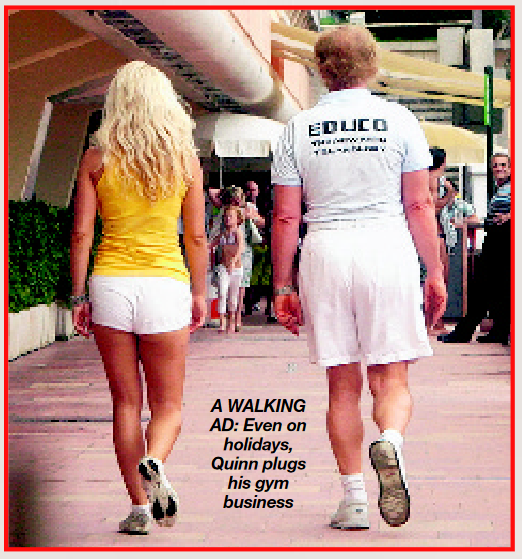 "CLIENTS' HORROR STORIES", by Nicola Tallant
TONY Quinn has been branded a 'Mucky Messiah' by an army of former followers who say their devotion to him has cost them their life savings and even their homes. In a series of exposés the Sunday World has revealed how he has amassed an enormous €50 million fortune from followers convinced to hand over enormous amounts of money to his mind bending cult.
One member who spent 25 years in his inner circle revealed to us how she had 'sexual healing' sessions with him while under his spell. Countless others have told how they re-mortgaged their homes, took out huge loans and went bankrupt trying to fund their devotion to Quinn.
The self styled mind guru began life as a yoga teacher in Dublin in the 1970s where he quickly built up an avid group of followers. From the early days members of his communes in Dublin believed that he was the re-incarnation of Jesus Christ. He even slept on what was once the altar of a chapel used by the previous tenants, a religious order.
As his popularity grew he opened the Tony Quinn Gym on Eccles Street and started hosting weekend seminars. In the 1980s the Tony Quinn health shops were opened across Dublin where he sold own brand of vitamins and minerals and where seminars were advertised. Followers attended in their droves and many collapsed under his stare.
He eventually developed his 'Educo' system of mind improvement and registered his business in Jersey becoming a tax exile. In 1993 he moved to the Bahamas where he began running seminars at enormous costs claiming he was doing university research.
Back home his followers were offered commissions for every- one they signed up to the fortnight sessions with the guru and a pyramid selling scheme developed. In 1995 he hit the big time when he began working with Steve Collins in the run up to his WBO world title clash with Chris Eubank.
Quinn described himself as Collins 'mental coach' and boasted after his victory that he had hypnotised him to feel no pain. On the back of his fame he started charging the now euro 63,500 price tag for 'Mind Masters' and 'Connection' seminars which offered followers a few hours of 'one on one' time with him.
In recent years he has amassed assets which include two luxury penthouse apartments on exclusive Paradise Island in the Bahamas, a million euro yacht and properties in Dublin, London and LA.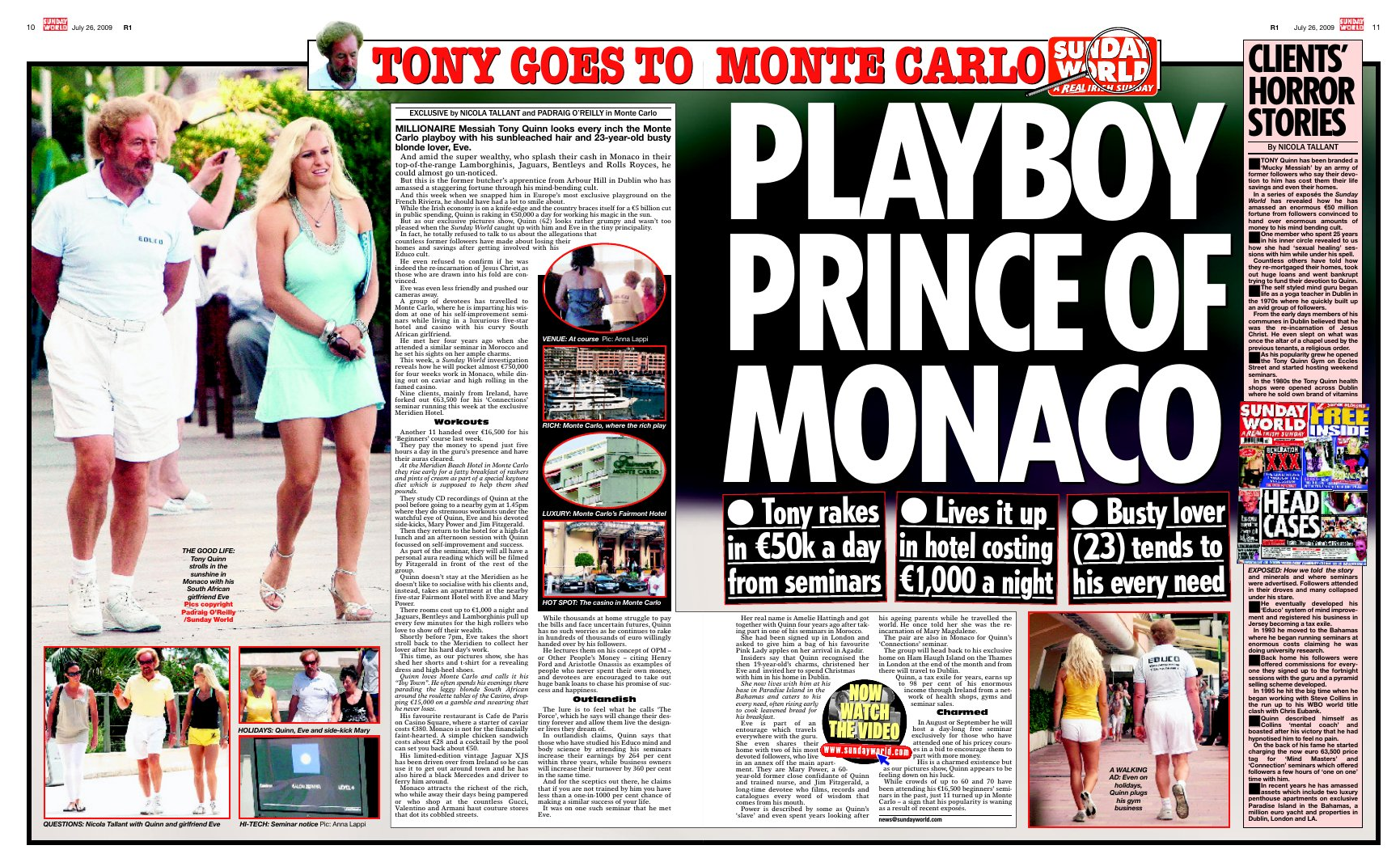 Article sourced from Dialogue Ireland.