"Messiah Universe", Sunday World
Controversial Cult Leader Backs Roche's Contest, by Nicola Tallant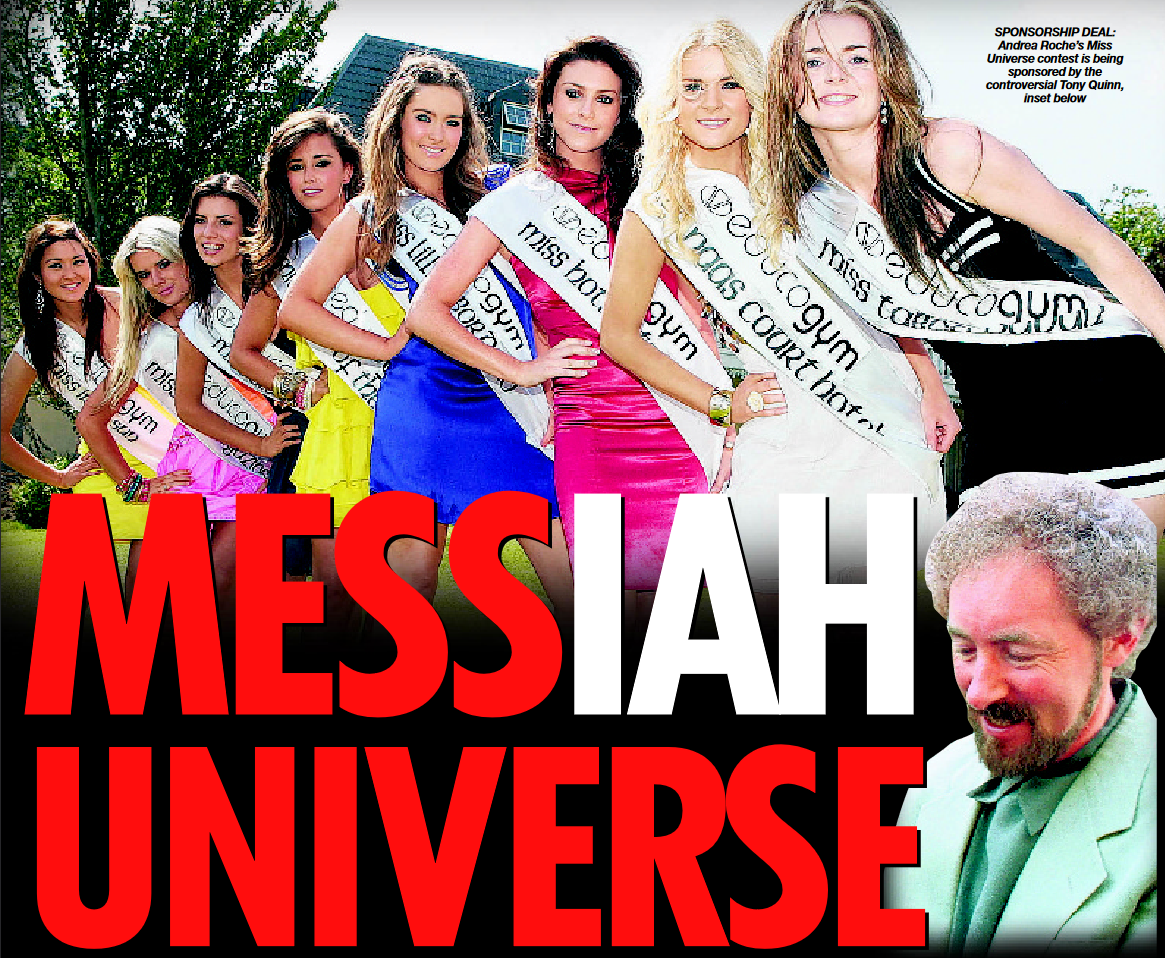 'MUCKY Messiah' Tony Quinn has joined the search for a girl to represent Ireland at the Miss Universe beauty pageant.
Quinn's Educogym franchise is to pump money into the competition which is organised by former model Andrea Roche and which will be hosted by Rosanna Davison.
And as part of her prize, the winner will receive one year's free membership in an Educogym – the fitness centres used as a recruitment ground for Quinn's cult in the sun.
Luxury
Quinn has made millions by convincing followers that he is Jesus Christ and lives a life of luxury in the Bahamas from the profits of his empire.
The 62-year-old former butcher has even christened his 23-year-old lover who was a student on one of his seminars, 'Eve' and has amassed a personal fortune believed to be in the region of €50 million.
His assets include two luxury penthouse apartments on exclusive Paradise Island, a €1 million yacht and properties in Dublin, London and LA.
The self-styled guru convinces gullible people to part with huge amounts of cash just to spend time with him.
A basic two-week seminar costs €18,500 while a 'masterclass' sets them back €62,000.
Many have been so taken in by the mesmerising 'Messiah' that they have re-mortgaged their homes and left themselves cash-strapped. Several of his 'clients' have ostracised their families as a direct result of his hypnotic influence.
Educogyms, which are owned by a team of devotees across Ireland, promise massive weight loss over just 12 days through a strict diet and an exercise regime with a Quinn-trained personal instructor. They also sell Quinn's health supplements.
Last night Andrea Roche refused to comment about the competition or her sponsor saying: "I have no comment to make."
Devotees
A Sunday World investigation has previously revealed how former Quinn devotees believed the seminars were a waste of money and one also told how she had sexual healing sessions with the guru.
The Miss Universe pageant was launched on Wednesday with a bevy of beauties lining out to show their curves and each draped in one of Quinn's Educogym sashes.
Former Miss World Rosanna Davison has agreed to host the event at Citywest Hotel on June 26 along with Alan Hughes and stylist Lisa Fitzpatrick, who recently spoke out in support of Quinn saying the work he does to help people is invaluable.
Educogym is the brainchild of Quinn who has told followers he came up with the concept while meditating.
They use specially designed machines the former butcher calls 'The Time Machine' and which he claims exercise muscles that the body cannot do alone. He has told his inner circle that the machines were a "gift from God".
Franchise owners pay a whopping €25,000 to Quinn's offshore companies to open a gym and a further €25,000 for each machine. A royalty of €2,000 a month and a hefty cut from any supplement sales are also paid out monthly.
Each trainer they employ has to first complete a €18,500 basic Quinn seminar followed by another €15,000 course – which is centred on hard-sell techniques to be used on punters who sign up for 12-day courses at the gym.
Dangerous
As part of a series of exposes about Quinn's empire, the Sunday World has revealed how the gyms promote dangerous high-fat diets while instructors are offered commissions to sign people up to the Messiah's pricey seminars.
One former Educogym fitness instructor has told the Sunday World how Quinn tried to turn him into a clone of legendary Mr Universe Steve Reeves on a dangerous diet of fatty lamb, bags of monkey nuts and glasses of double cream as he coached him to become a trainer.
Kildare bodybuilder Keith Farrell (23) claimed he was told to eat like a caveman to attain the body beautiful so he would look the part in an Educogym.
He had quit his own job when he was promised a €1,000-a-week salary after completing a two-week training course in the Bahamas. But just days into the course, he says he realised he had walked into the middle of a bizarre cult where Quinn is seen as God and where everything he says goes.
"My experience with Tony Quinn was the worst thing that has happened to me in my life. I am still counting the costs now and I really just want to warn people out there what this Educo thing is like.
Keith's first trip to the Bahamas was for a two-week introductory course at which Quinn lectured on the secret to success and his mind system.
"The others on the course were so into it and it was like being landed on the moon. They talked about Quinn like he was God and everything he suggested, they did. They spent hours flailing around on the floor. It was utter hell.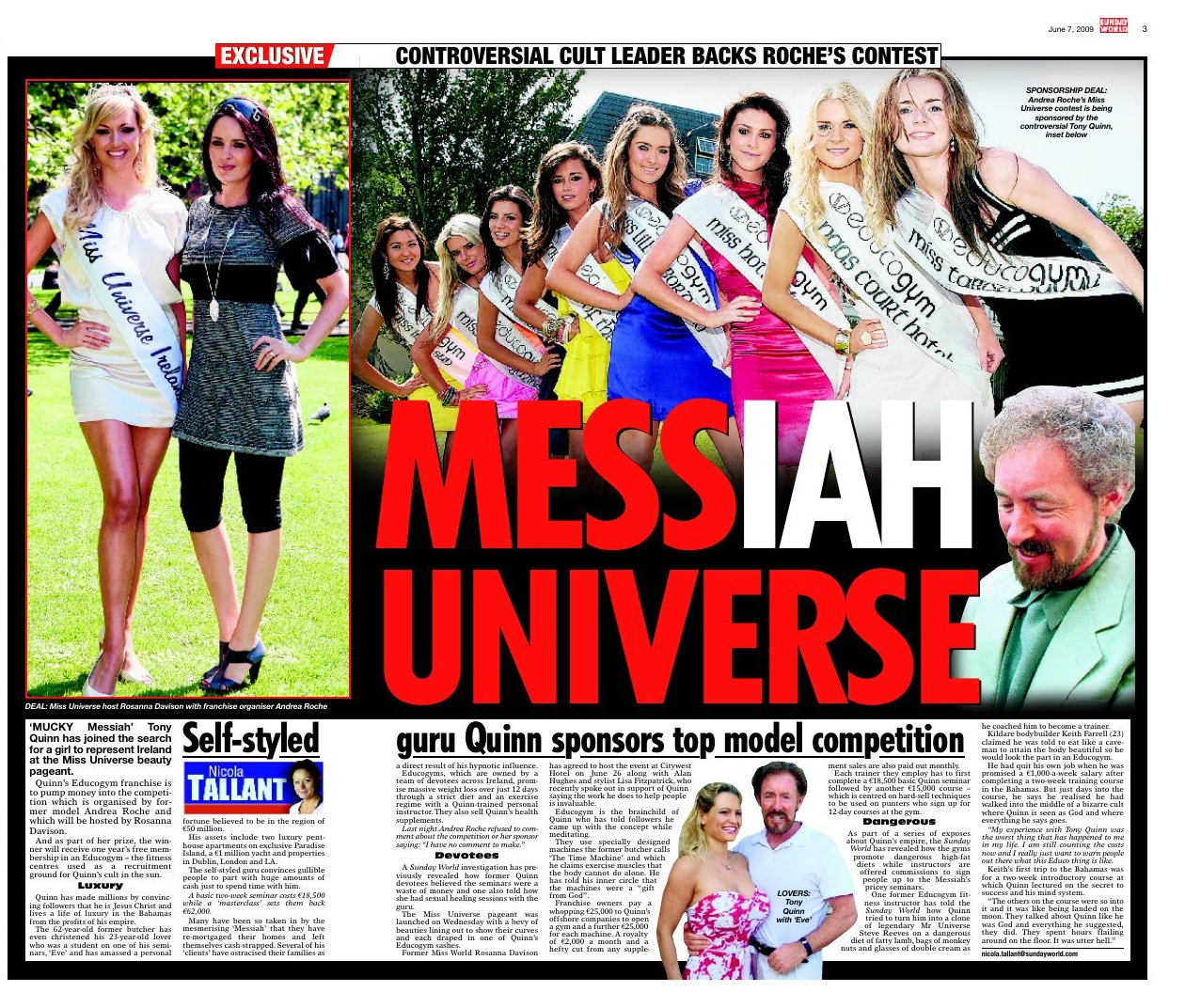 Article sourced from Dialogue Ireland.