"Messiah's Nailed To The Courts", Sunday World, by Nicola Tallant

Summons up for Tony as writ hits fan
MUCKY Messiah Tony Quinn has fled the country just days after being summonsed for an alleged sex assault on a former loyal follower.
Quinn flew out of Ireland on Tuesday morning after a court allowed lawyers nail the summons to his door because they were unable to serve him due to heavy security surrounding him at all times.
The guru has until Monday week to respond to the court but the Sunday World now understands he has left the country.
Among a list of allegations he is being sued for ARE sexual assault, battery and fraudulent misrepresentation by former follower ***** *****.
Her lawyers have told the High Court that summons server Brian Comiskey was unable to serve a plenary summons on Quinn because he is constantly surrounded by security personnel and is living in a fortress in Malahide since his return to Ireland for Christmas.
Sunday World photographer Ernie Leslie spotted the summons nailed on the wooden door of Quinn's Hicks Tower in Malahide last week hours after lawyers were granted leave by the High Court to serve it in the unusual fashion.

The ********* mum, who spent over 25 years in Quinn's Educo cult, has stunned his army of disciples by issuing him with civil proceedings on a string of charges.
She was once so devoted to Quinn that she has admitted recruiting hundreds of followers across Ireland and selling them pricey €18,500 and €63,500 seminars in the sun to spend time with the mind guru.
Last week her legal team went to the High Court to tell Justice Patrick McCarthy that while Quinn had been in Dublin they were unable to serve him the plenary summons because of high walls and gates around his Malahide home, leading to the request being granted to nail to summons to the wooden door.
Suffering
Judge McCarthy has been given a copy of Ms *****'s summons in which she claims damages for sexual assault and for allegedly procuring sexual relations with her against her will.
The detailed claim also alleges assault and battery; obtaining money by false pretences, fraudulent misrepresentation, intentional or careless infliction of mental suffering and suborning Ms **** by undue influence.
*****, who lives in ******* with husband *** and their kids, first met Quinn in 1982.
She has told the Sunday World that it was when she was under the belief that he was Jesus Christ that she said she had three 'sexual healing' encounters with him.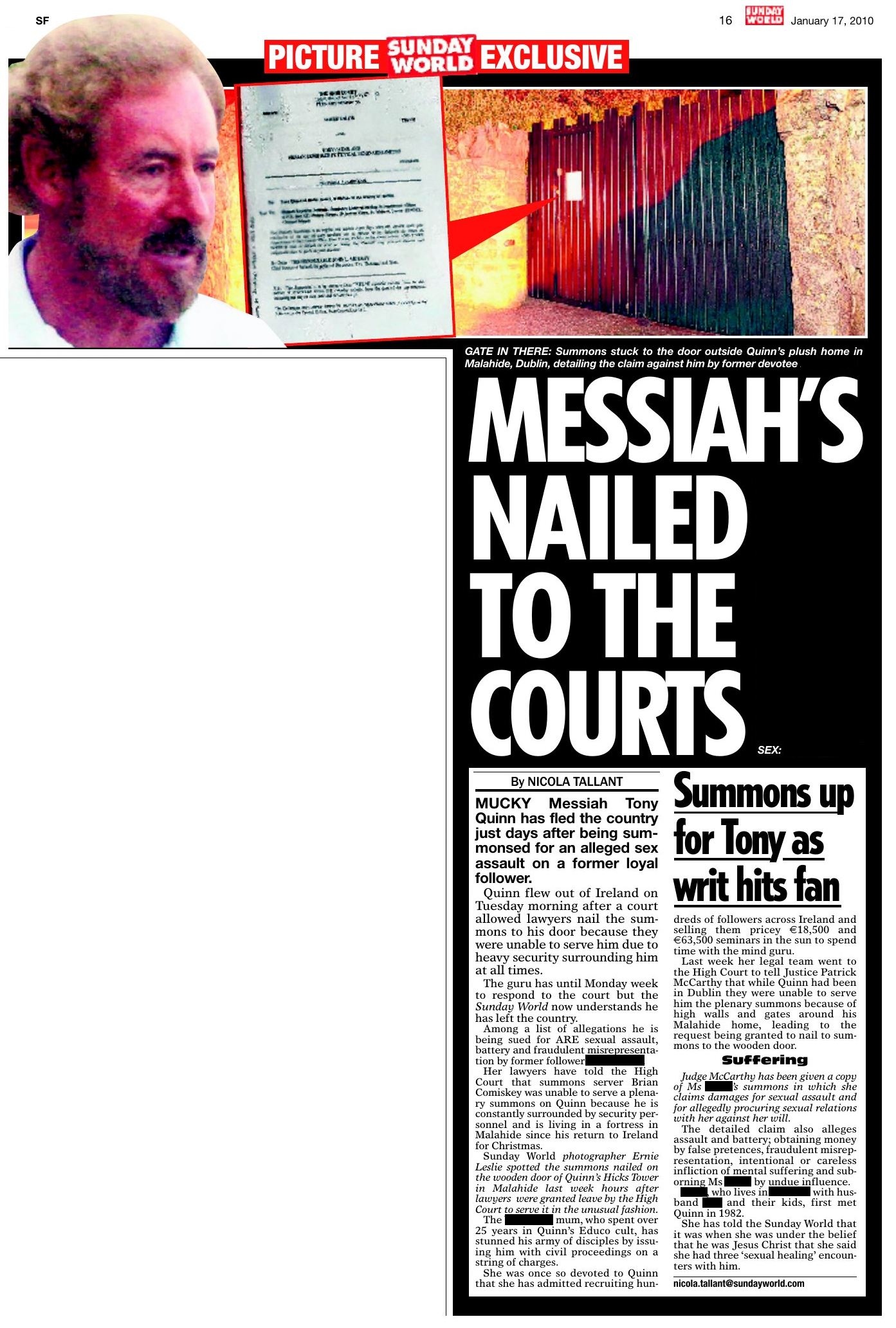 Story sourced from Dialogue Ireland. The identity and name of the Survivor and Victor of Quinn removed out of respect for her privacy, bravery, courage and strength!