"Oil's Not Well On Planet Tony", Sunday World
Mind Bender's Black Gold Hopes Have Gone Up In Smoke, by Nicola Tallant
IT'S THE picture that captures the moment when mind bender Tony Quinn believed he had finally got it all.
With one arm casually thrown around the shoulders of his busty blonde lover – who he re-christened Eve – he clasps the cage surrounding a hole in the ground known as 'Mike Usher l' – a hole that was to turn him into a black gold billionaire.
But the dream has turned to dust for the man dubbed 'the Mucky Messiah' by ex-followers and now he is going to have to go back to convincing recession-hit workers to pay for his lavish lifestyle.
This week his hopes of leaving behind his Educo cult for the world of Texan oil barons were in tatters, after a court ruling took away a €23 million shareholding he was gifted in an oil company by followers who believed he had helped them strike it rich.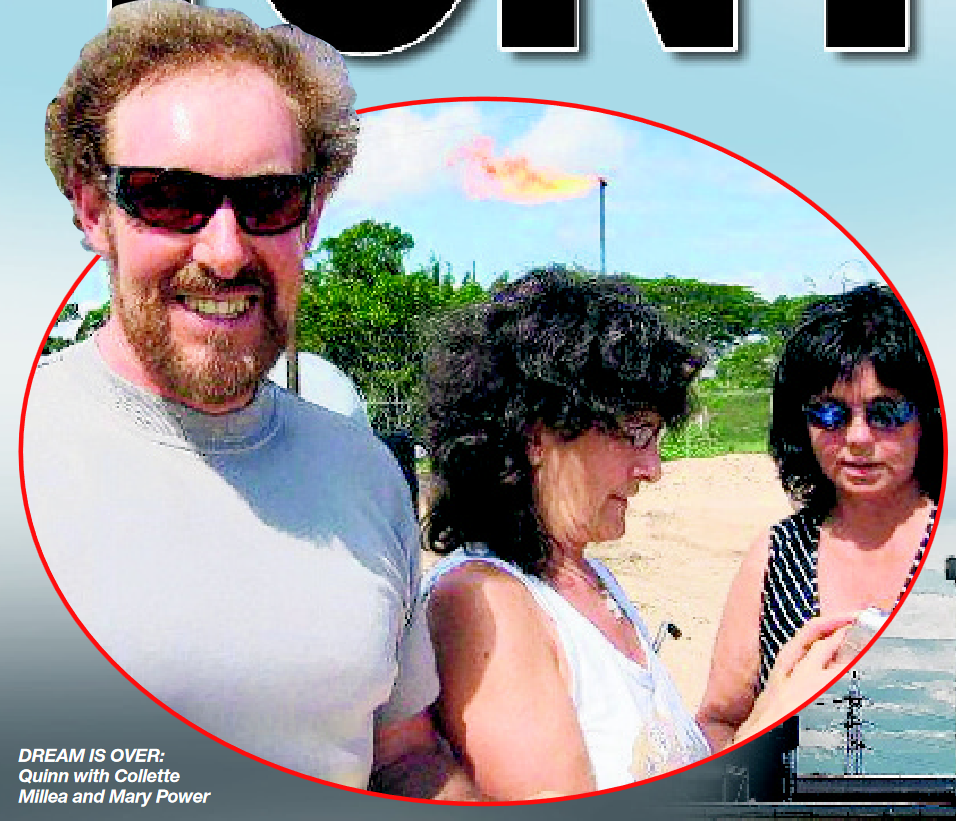 Spooks
A court in the exotic British Virgin Islands declared he should never have received the valuable shares and should never have been parachuted on to the board of directors of the oil-rich firm International Natural Energy (INE).
But the epic case also gave an incredible insight into Planet Tony, painting a picture of a deluded man who hired what a judge described as "a private army" to police his paranoid universe of money, spooks and fear.
The preliminary judgment from a commercial court in the British Virgin Islands has ruled that Quinn's appointment as director of INE – an Irish-owned oil exploration company in Belize – was not legal.
Control of the company and dividends – which were due to more than 400 Irish shareholders, but never paid out – remain uncertain, with further legal battles in the pipeline.
The bombshell judgement found that documents were forged to appoint Quinn to the board of the company and that his long-awaited big pay day – he was gifted tens of thousands of free shares – won't happen.
Over two weeks at the court in Tortola, it emerged that the company operated as a cash cow for Quinn and his Educo businesses, which were paid a staggering €1.9million over five years by INE for its staff to attend the guru's own seminars, as well as get private tuition and training at gyms.

At one point Quinn, who endured two days under cross-examination, was asked for audited accounts from his Jersey-based businesses, but said he didn't know if he had filed accounts. He was then asked to forward them on to the court.
In 2008 alone, Quinn pocketed more than €500,000 from INE for seminars, figures which the judge said "are preposterous".
On top of paying for representatives to attend Quinn's pricey seminars in the sun, it also emerged that INE spent more than €1.8million on security and surveillance for him over a two-year period, which Judge Edward Bannister found was "clearly excessive".
"Whatever may have been the need for some personal security, the expenditure was made in very large part for the purposes of Mr Quinn, who appears to have hired what amounts to be a private army at the sole expense of INE," he said.
Most of the money, €1.3million, was paid to Irish company Henrima and it's Donegal-based director Sean Henderson. The company, which had its address at exclusive Coliemore Road in Dalkey, south Dublin, went into liquidation in 2009.
Quinn claimed he needed protection as he was being pursued by the media, and in particular the Sunday World, and because his life was at risk. He also insisted that he was terrified of a tiger kidnap.
The Sunday World had been investigating Quinn's extravagant lifestyle after many who attended his seminars complained that they got nothing in return for handing over huge sums.
We were also probing claims by former follower ***** ******, who accused the man who some devotees believe to be Jesus Christ, of sexual assault and battery after she alleged she took part in "healing sex sessions" with the guru.
The case is still listed as pending in the Irish courts.
INE's second-biggest corporate client, next to Quinn, was the company X-Jet, owned by another Educoist and fellow board member Josh Stewart.
Entourage
Stewart married another Quinn follower Tina Fearon in Ireland earlier this year and his company has long attributes its success to the former Dublin butcher and his 'business' technologies.
Quinn regularly flies on the private jets owned by X-Jet and flew in on one of its planes to attend the case in the British Virgin Islands earlier this month.
His entourage included his South African girlfriend Eve and Irish secretary Mary Power. The group stayed at the exclusive Sugar Mill Resort on the island.
Quinn then returned to Monte Carlo where he is hosting his annual July seminar for followers.
During his evidence the mind guru insisted that the security was needed.
"I was at risk of my life," he said.
But when he was quizzed about close protection and surveillance carried out in London and Dublin on behalf of INE, he said he couldn't answer who could have been the subject of such scrutiny. He also said he had no idea why the company used Nairobi-based security experts.
Quinn insisted that he knew little about his finances or the finances of INE. "I have nothing to do with cash whatsoever," he told the Judge.
Legal fees of €4 million were spent by the company since 2006, including massive amounts to Johnston Solicitors, based in Belfast, who have represented Quinn personally.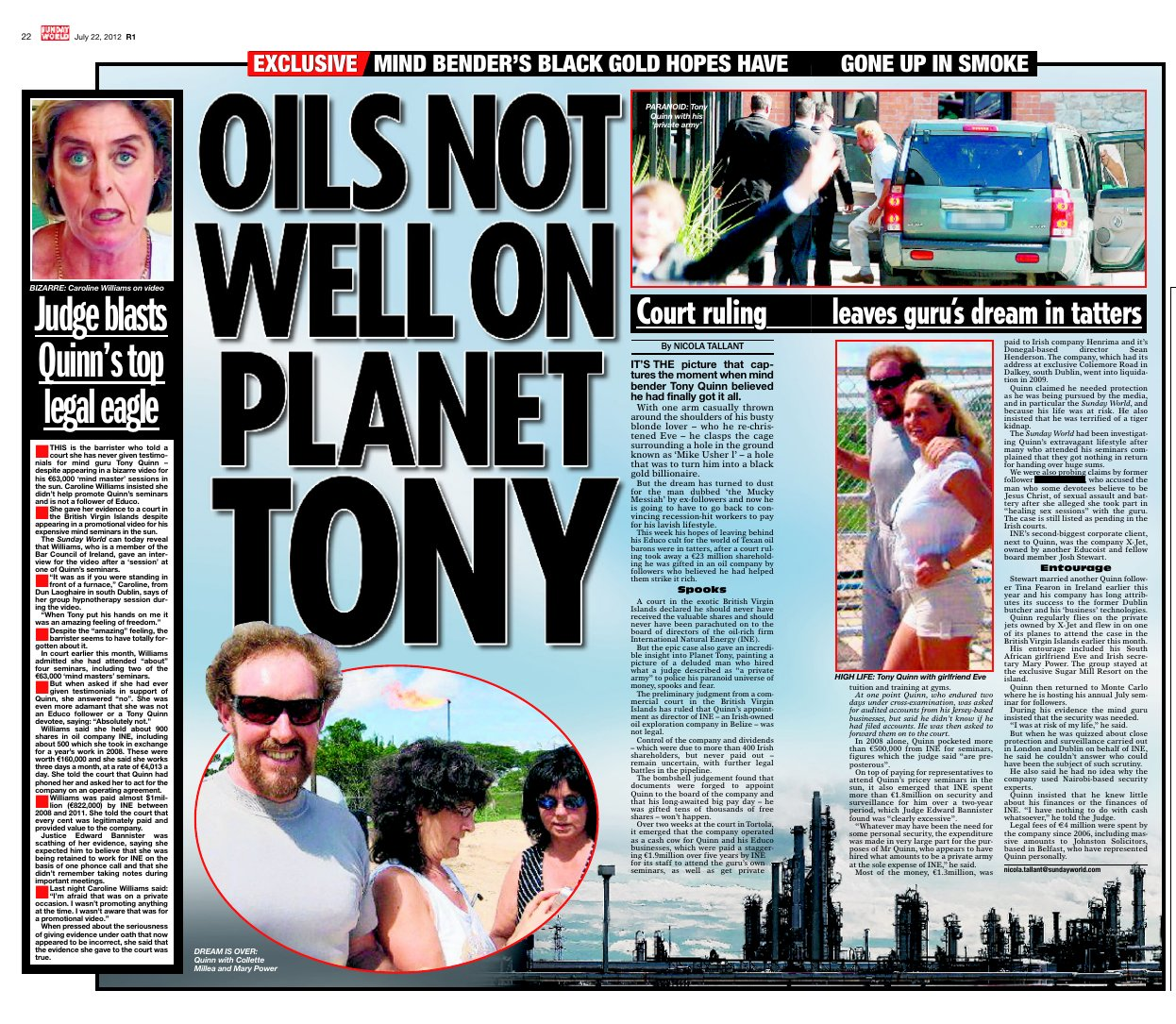 Article sourced from Dialogue Ireland