"Quinn A Spot Of Bother", Sunday World
'Messiah' Tony offers cut-price package in the sun to revive flagging business, by Nicola Tallant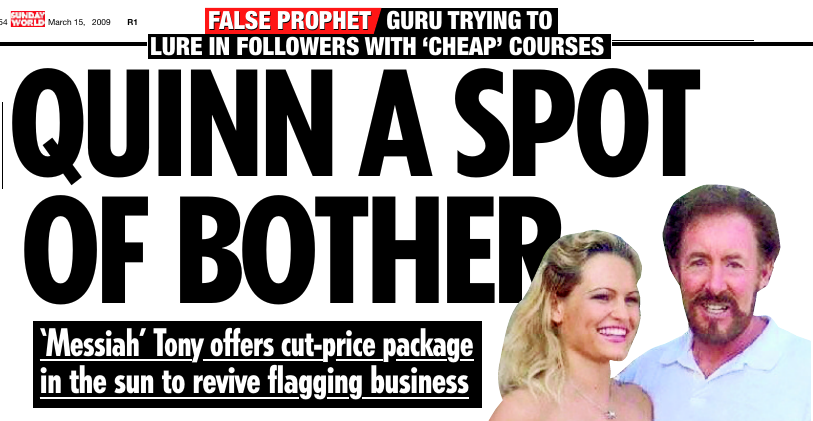 MILLIONAIRE Messiah Tony Quinn is trying to use the recession to boost his flagging business - by offering followers a cut-price course about how to success during the economic crisis.
This week the guru sent a personal letter to thousands of people across the country offering them a 'cheap' chance to spend time with him.
He failed to mention that he had to cancel his last seminar due to lack of interest, following a series of Sunday World exposés about his murky world.
"When I was in Ireland over Christmas so many people got on to me in a panic over their lives and businesses. I met with as many as possible and hopefully made a difference. I am sorry I couldn't get around to everyone and really do want to help," he claims, before offering the chance to see him in the Bahamas at the slashed cost of €5,000 for a week-long seminar.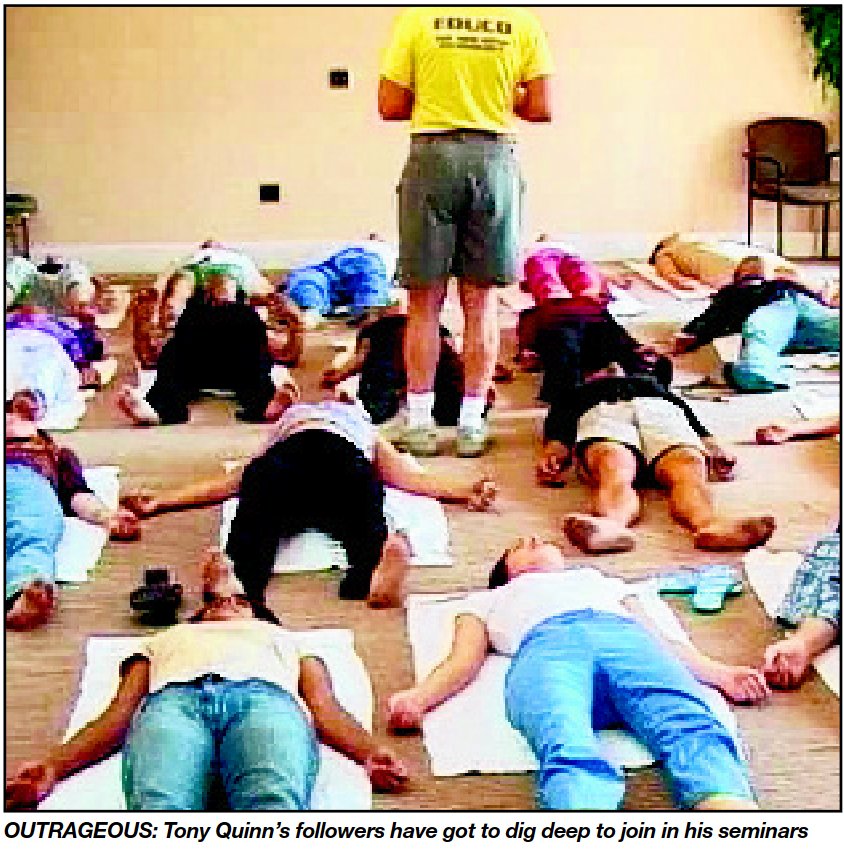 Experience
Usually, Quinn's basic seminars will set followers back €18,500 while 'Masters', made up of smaller groups, cost an incredible €63,500.
"Here is a solution that may appeal to you," he continues. "In the introductory Educo Seminar, that I am due to do on 14th of March, I will give people the information they would get if they had a one-to-one with me about how to succeed in the present mental climate."
The 'special offer' only applies to anyone who has already been on a Quinn seminar and those who want to take it up are informed that they will have to pay for their own flights and hotel.
"Many of you who came to the seminars some years ago say you would benefit by a repeat, indeed this may be 'the time' so I hope my offer meets with your approval," he concludes.
The letter dated March 4 opens with Quinn attempting to hammer home just how successful he is.
"How are things with you? Right now I am writing this sitting on the dock beside my boat in Miami."
He goes on to discuss the economic crisis, saying that he could do a whole seminar on how to get rich during the recession.
"I have succeeded in the business arena and that is what I bring to the table. What I am offering works in real life, as opposed to someone who only does seminars and does not have the real life experience."
Quinn makes no mention of the fact that he got rich by convincing vulnerable people that he is a Messiah-like figure.
He fails to point out that many have lost their homes and hundreds of thousands of euro due to their obsessive devotion to his 'mesmerising' courses in the sun.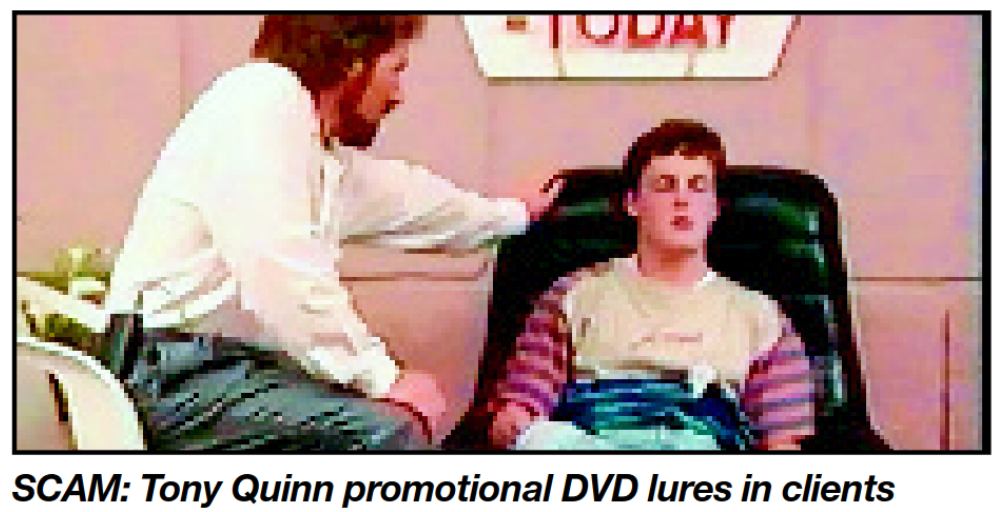 Yoga
Quinn has been convincing people that he is the Messiah since the 1970s, when he honed his skills as a hypnotist and yoga instructor.
Since then he has amassed a personal fortune believed to be in the region of €50 million and has assets including two luxury penthouse apartments on the exclusive Paradise Island in the Bahamas and a portfolio of properties in Dublin, London and LA.
Despite his huge fortune, the 62-year-old former butcher has been accused of penny pinching by members of his inner circle. They say he quibbles over the price of everything and hates having to spend his own money.
He once charged one of his most devoted followers, from Malahide, a whopping €100,000 for a two-week, one-on-one course with him in the Bahamas.
Although Quinn lives with a South African beauty, who he named Eve, he insists on having his own private quarters wherever he goes.
Session
Quinn has constantly tried to re-invent and re-package his seminars in the sun to keep interest up since 1993, when he developed a basic £15,000 package.
At one point he held one-on-one sessions where clients got to spend two weeks alone with him at a cost of £100,000.
He then developed the 'Executive Seminars' where for £50,000 a smaller group were offered the secrets to self realisation and success.
By 2003 he began marketing the 'Mind Masters' seminars priced at €63,500.
Followers paid for their own flights and for their money got a 13-day session with Quinn and one day off to admire the stunning setting of Paradise Island.
In 2006 Quinn set up 'The Summit'. Around 20 people attended the invite-only seminar, where they spent two weeks learning a meditation mantra known as The Success System That Cannot Fail.
"This was supposed to change the world," an insider said. "Obviously it didn't and Quinn repackaged his product again, this time calling it The Song Of Life seminar."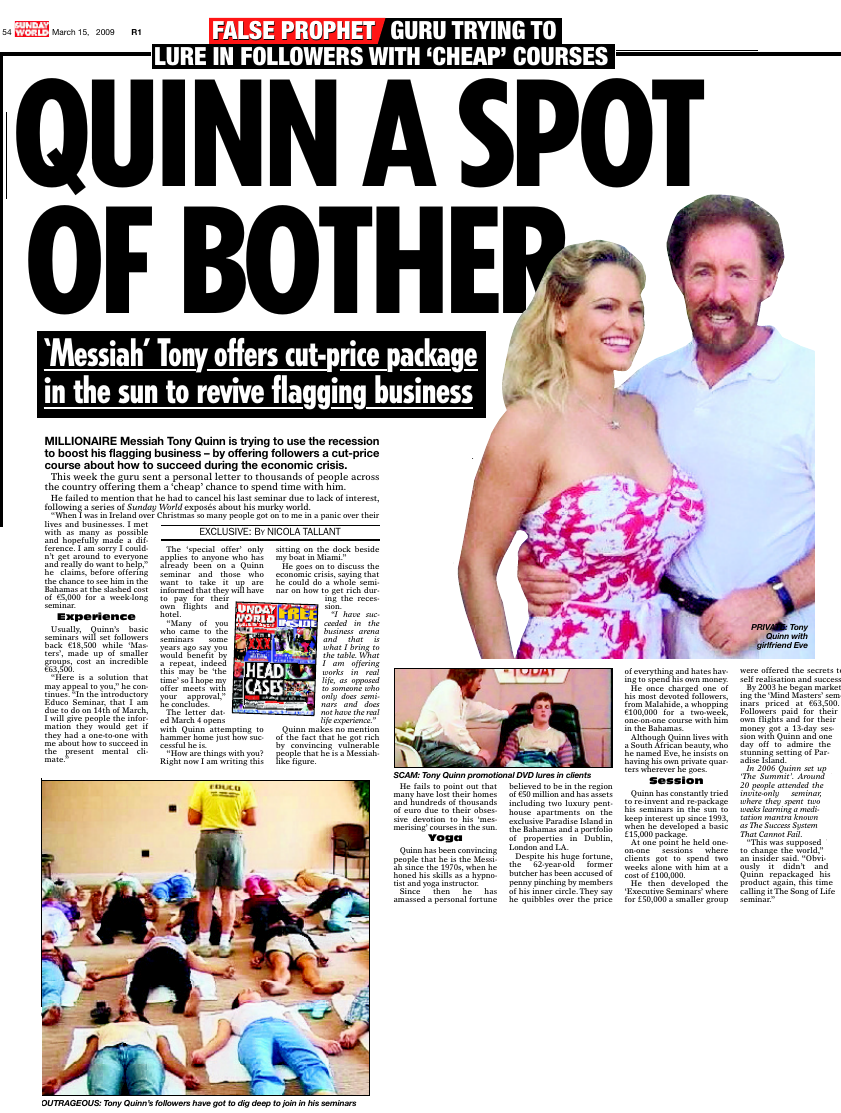 Article sourced from Dialogue Ireland