"Quinn's Mission Impossible, Guru wants Cruise to play him in film version of life", Sunday World
Guru wants Cruise to play him in film version of life, by Nicola Tallant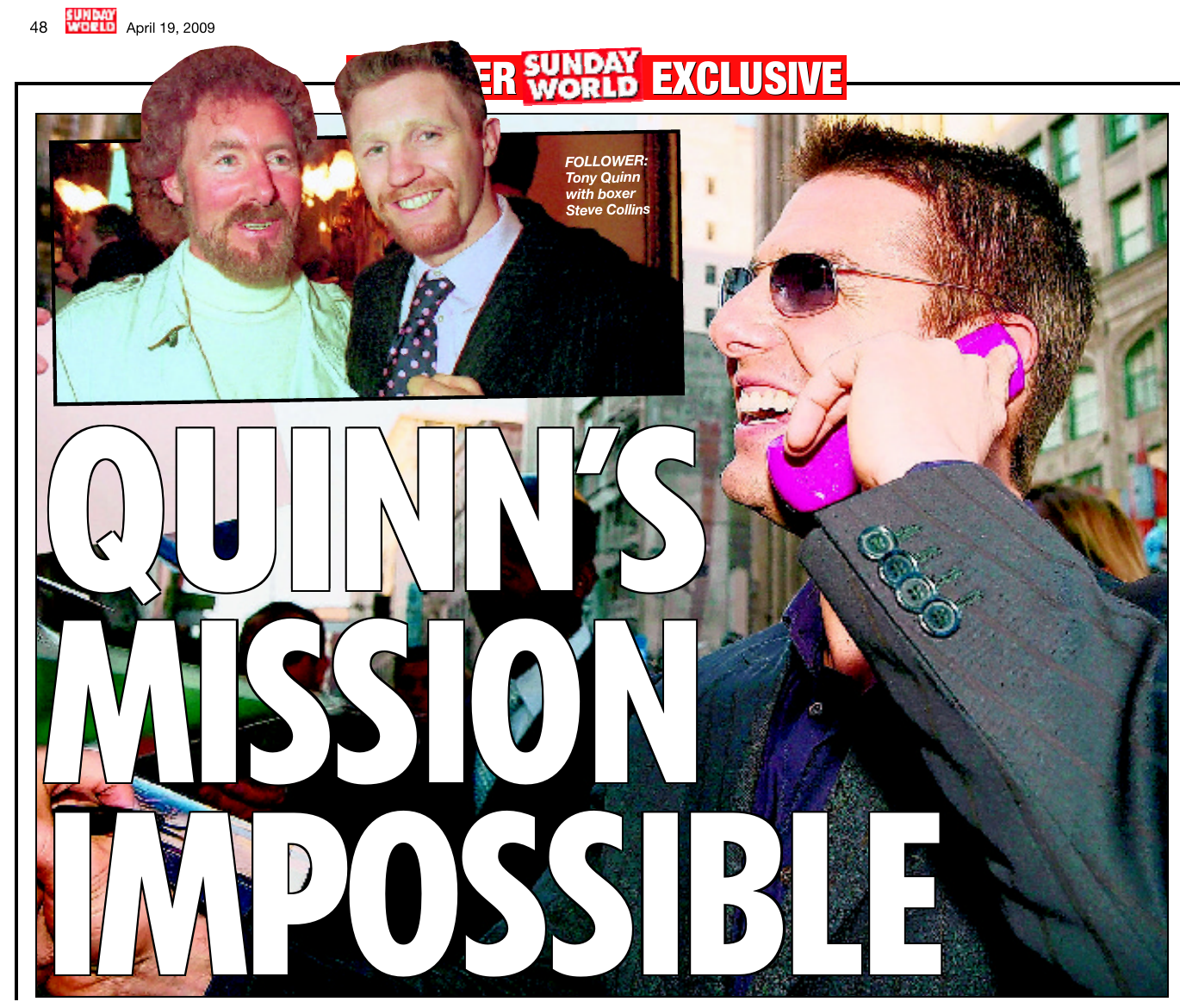 MIND guru Tony Quinn has penned a movie about his life as the 'Messiah' and wants leading Scientologist Tom Cruise to play him.
The millionaire has told close associates that he has sent the script to Cruise's agents in the hope the actor will jump at the chance to play the role of the former butcher turned self-styled modern day Jesus Christ.
Movie maker Jim Sheridan has already turned down the chance to make the film which Quinn approached him with a number of years ago.
The award-winning film director is believed to have been perturbed when Quinn began to insinuate to him that he was in fact the re-incarnation of Jesus Christ.
False
The movie centres on a man who comes down to earth and is the only person who knows the human race are operating in a false reality – just like that portrayed in sci-fi hit The Matrix.
The character has to unplug the programmes implanted in the minds of humans and free the world – just like Quinn claims to do in his costly seminars.
One former follower M**** L**** says Quinn told her that he had approached Cruise's agents and that the top actor is interesting in taking up the role.
"That is what we were told but I have no proof that it is true. Certainly Quinn is pedalling the fact that Cruise is supposed to be interested in taking the starring role," she said.
Cruise who is number two in the bizarre cult of the Church of Scientology already believes a strangely similar scenario penned by his Church's founder L Ron Hubbard.
Scientologists do a series of expensive courses and undergo pricey counselling or auditing sessions – to free their minds of past life experiences.
They initially reach a state of 'clear' where their minds are unplugged of these programmes before moving on to study higher OT levels which purport to hold the secrets of the universe.
The so-called secrets were written by Hubbard aboard a ship while he was on the run from a number of jurisdictions and believed to be addicted to LSD. The secrets culminate in the fact that Hubbard is the Almighty (but in his case the beast 666 as opposed to Jesus Christ).
Another former follower who attended Quinn's upper level 'Mind Masters' seminars says she was told that Quinn has been in touch with Sean Connery – a neighbour in the sunny Bahamas where he is based – and asked him to play the role.
"He said the Matrix was the closest movie to his own script in that it was this idea that everyone on earth is stuck in a time-capsule and are governed by thoughts and fears rather their own intuition.
"He reckoned that his movie would be a massive blockbuster with a real life story behind it and that it would turn him into an over-night star and see people come flocking to his seminars from all over the world," he said.
Quinn's seminars run a number of times every year. A basic two-week course in the sun-soaked Bahamas will set a participant back €18,500 while an upper level or 'Masters' course costs €63,500.
For their money, clients get to spend time in the presence of Quinn – a taxi driver's son from Artane in Dublin who has studied yoga and hypnotism since the 1970s.
Followers
In a series of sensational exposés on Quinn, the Sunday World has revealed how the 62-year-old believes he is the re-incarnation of Jesus Christ and leads followers to believe that he can do anything from changing the weather to banishing evil spirits.
To date an estimated 3,000 people have already handed thousands of euro – turning him into a multi-millionaire tax exile.
We have conservatively estimated his fortune to be worth €50 million and includes a plush penthouse in Paradise Island, homes in London and Dublin.
In outlandish claims he promises that those who study his mind and body system known as Educo will increase their earnings by 264 per cent within three years.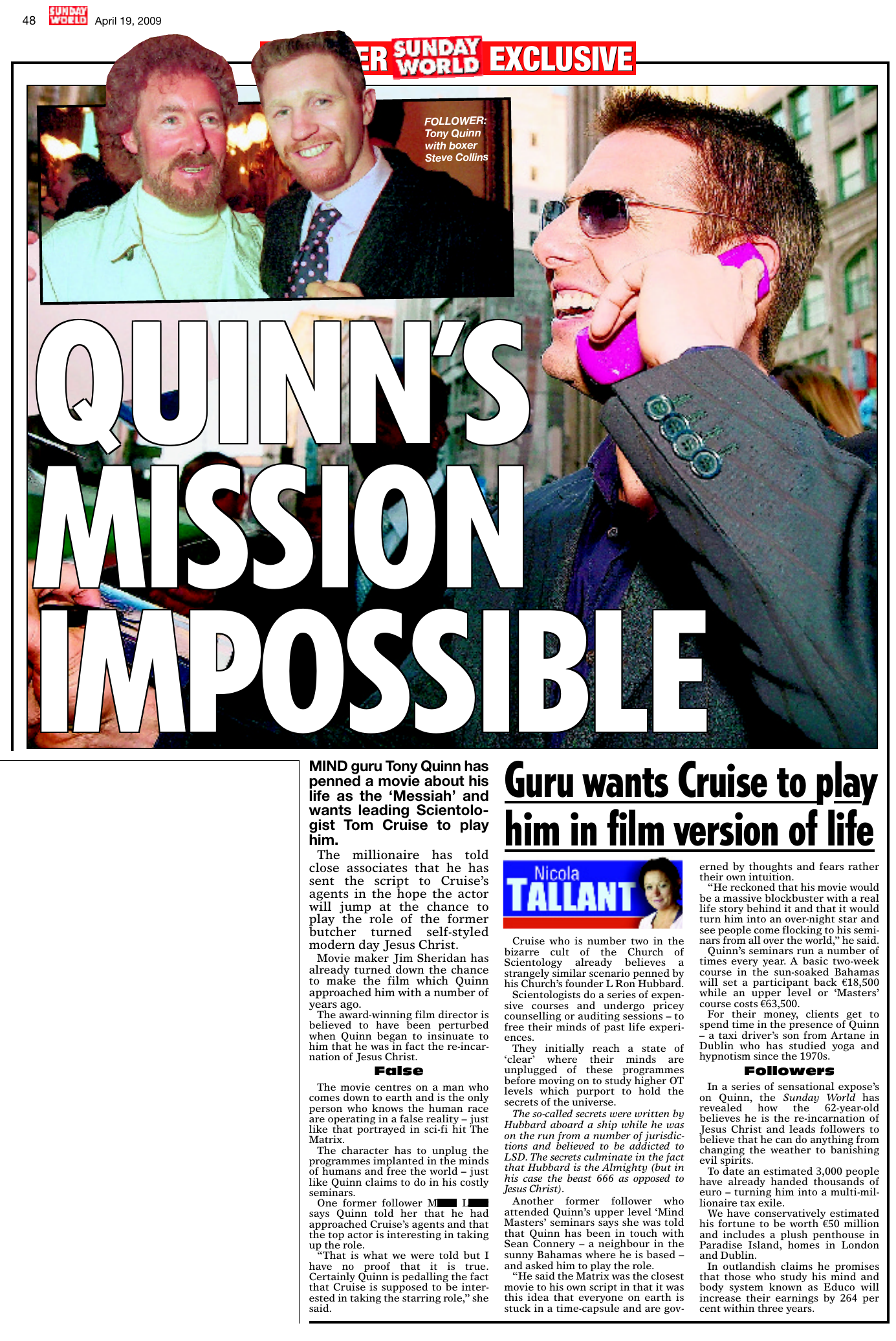 The name of a Survivor of Quinn's abuse who is also his Victor has been removed out of respect for her privacy.
Article sourced from Dialogue Ireland