"Yoga Cult Broke Up Her Home", Sunday World, Feb 24, 1974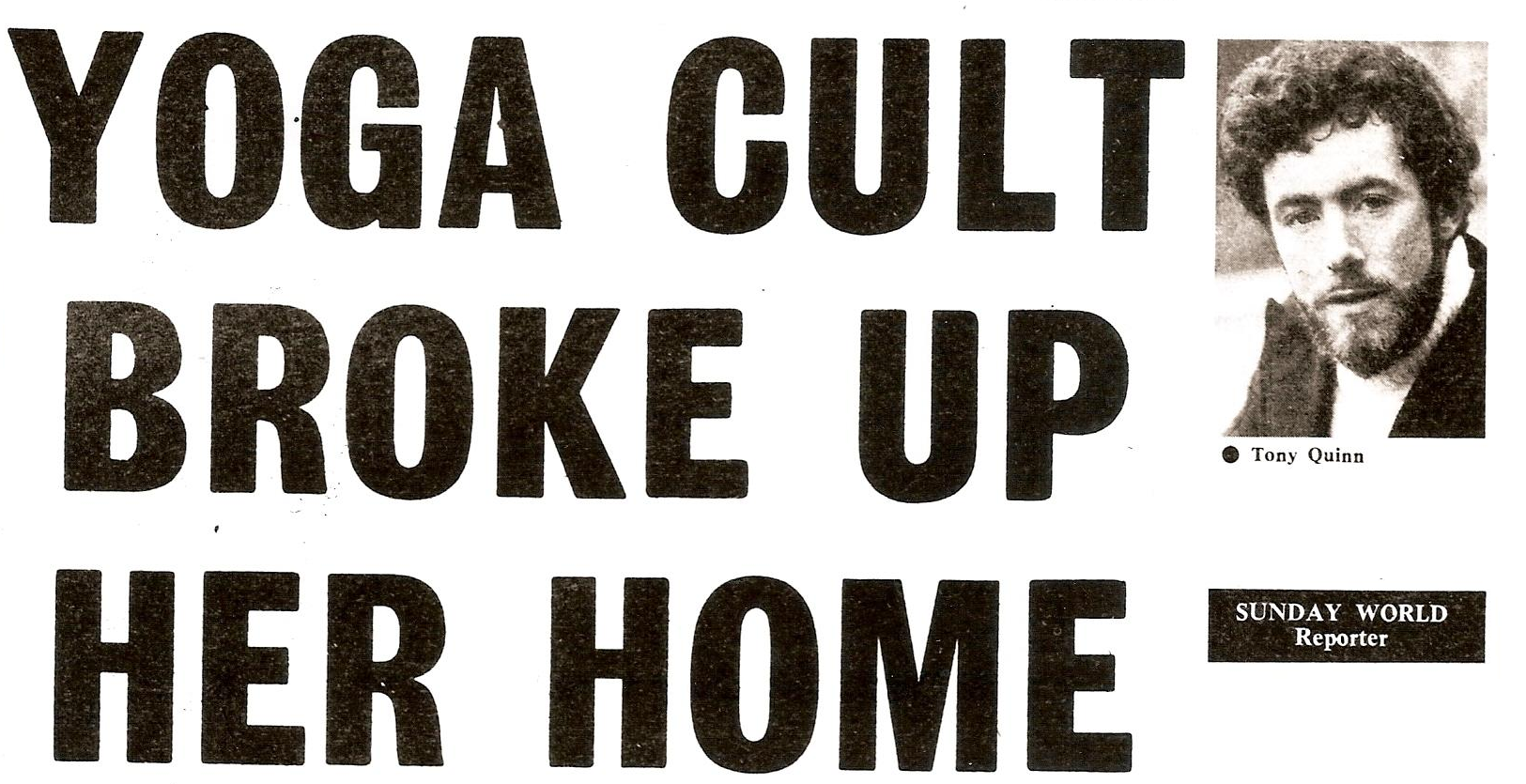 A disturbing incident arising from the practice of the cult of Yoga in Dublin has evoked the anxious attention of clergy and doctors.
A young family has been broken up after the mother, attending yoga classes, developed an obsession with the philosophy.
For several years the young woman had led a normal life with her husband and children and then began to attend the yoga classes. Her personality changed and now she takes no interest in her former life.
Her husband, a technician, has had to remove the children, one of whom is less than a year old, to his parent's home.
His wife – who must be known as Mrs X rather than that family position be further aggravated – went to live in the Yoga Commune at Templeogue and only after many attempts to get her back, Mr X had to enlist the services of the Yoga leader, Tony Quinn, to persuade her to return.
At present she lives apart from her husband.
When the incident was brought to the attention of Sunday World, we tried to interview Mr Quinn, who is well known as an organiser of Yoga classes in Dublin and its suburbs.
We spoke to him on the phone at the Commune, which is a large mansion on Templeogue Road, formerly owned by the Columban Fathers, and in which it is said about 30 to 50 yoga devotees live together, practising their exercises and meditations. They are paying guests.
We asked Mr Quinn if the Yoga he is teaching , or preaching, was the same as the Hindu cult. This, according to encyclopaediac definition, 'teaches a technique to free the mind from attachment to the senses, so that once freed the soul may become fused with the eternal spirit'. There are then seven levels with the eighth (Samadhi a 'trance state which is a sign of the complete unity of soul with reality'.
The 'Yoga Sutras' are 2,300 years old, and even so were based on more ancient traditions.
Mr Quinn said that 'there were other definitions of Yoga'. When asked where he himself had ever been in India, he said he had not.
'Are there seven stages in Tony Quinn Yoga?'
'Not exactly.'
'Is there a Dublin Yoga as well as an Indian Yoga?'
No reply.
He then asked if the reporter was doing an article for a newspaper and when told that that was the general idea, he said, 'I am not a newspaper fan myself'. He added: 'Sometimes there are stories that run down Yoga'.
When a reporter and photographer went to the commune building there was a long wait at the hall door. Then a small child appeared. Later a young girl. She was pleasant but said that Tony Quinn was not in and only Tony Quinn could talk about the commune.
When the photographer was taking pictures of the place, she with another girl, objected. But when the photographer persisted they both went back to their meditations.
Mr Quinn's classes cost £5 per six lessons, with six lessons in each of the several stages. The story of Mrs X, which is perturbing suburban clergy, began when the housewife decided to attend a local session just for interest.
Mr X says he and his wife had had very happy relations before this. They had gone abroad and to parts of Ireland on holidays with the children and there were no money troubles.
Mrs X continued into the other stages of Quinn Yoga and thus, according to her husband, began to change. She ignores her children, and concentrates on reading books relating to the religion of the Essenes. She changed her diet according to the Yoga rules and dropped a stone and a half. She left home to live in the Commune.
After trying for some weeks to locate her, and on three occasions visiting the commune to be told Tony Quinn was ill and couldn't see him. Mr X told the Yoga organiser that he held him responsible for his wife's actions, Mr Quinn then convinced Mrs X that she should return home.
Following this she had to undergo medical treatment and arrange psychiatric consultation.
One of her obsessions was a refusal to allow one of her children milk in any form.
A meeting of Yoga in Dun Laoghaire was broken up when people who knew of this incident told the students there about it.
Clergy began to refer to Yoga in their sermons. A priest told Sunday World: 'We have nothing against Yoga as an exercise and we have nothing against its teachings in the physical sense. But its philosophy may be dangerous for sensitive people.'
Some students of 'Tony Quinn's Yoga' told Sunday World that they believe in reincarnation and that Yoga masters may be the reincarnation of Moses or the prophets.
'Tony Quinn's Yoga', according to his advertisements, is designed to help people achieve perfect happiness. Mr X would not agree. But by his reluctance to explain his system, Mr Quinn leaves the public in some doubt.
Several persons who have attended Yoga classes organised by Tony Quinn told a Sunday World reporter that their personalities had changed too – for the better.
For instance, one UCD arts student, Nora Lennon said: 'It has reduced my weight I am happy with my diet and I feel better all round. If people find something wrong with Yoga it must be that there is something wrong with themselves'.
Another young man said he had been cured of a speech impediment by, he believed, attending the Yoga classes.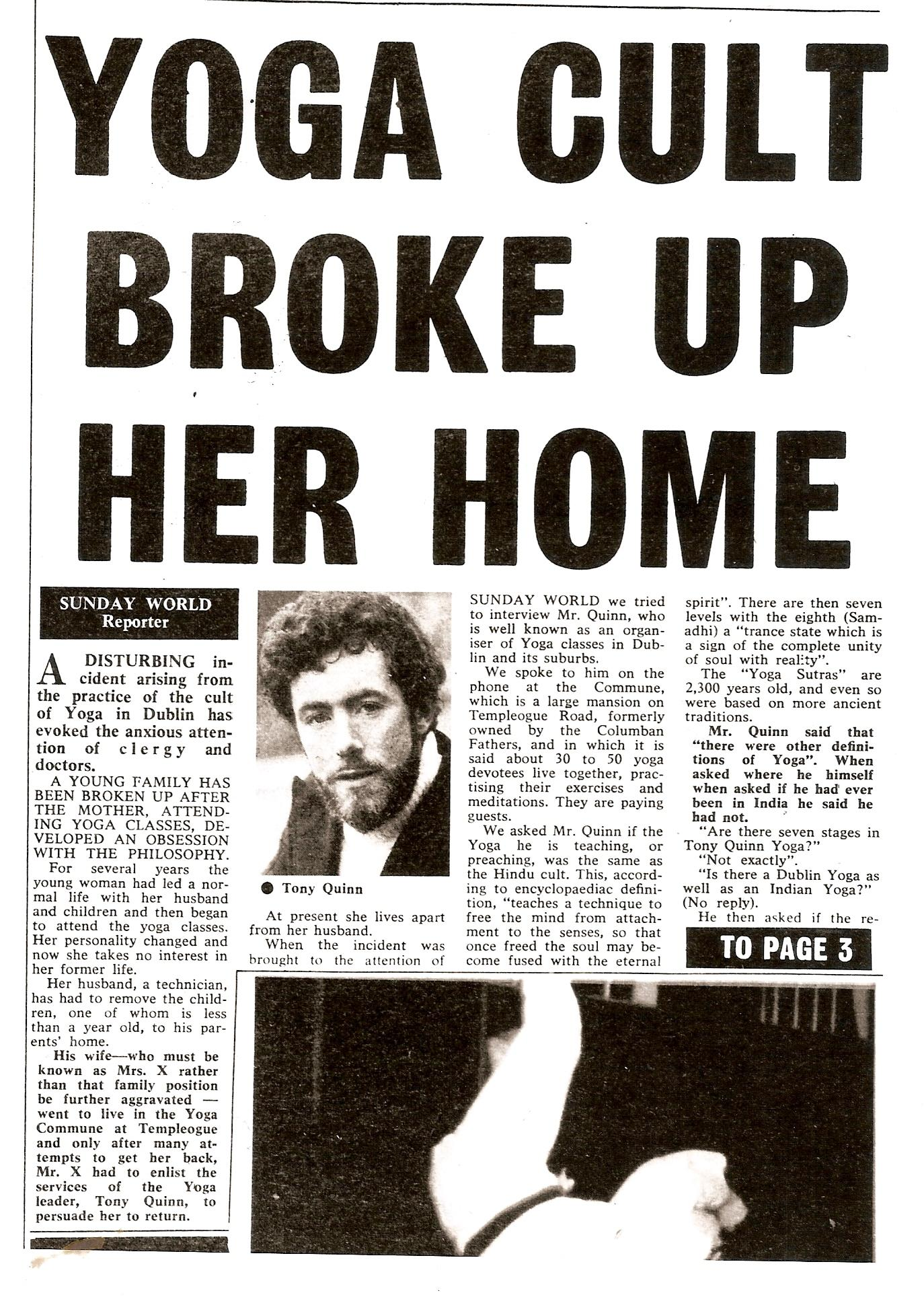 This article was sourced from Dialogue Ireland (2nd article)