The EDUCO messianic "Cult" and it's leader's ("Dr" Tony Quinn), and his follower's, obsession with the movie "The Matrix"
Here's an article about Irish reincarnated-Jesus "Cult" leader "Dr" Tony Quinn. It features Tom Cruise, Sean Connery, twice-Oscar-nominated director Jim Sheridan and The Matrix!
In 2009 Ireland's Sunday World reported that EDUCO messianic "Cult" leader "Dr" Tony Quinn had written a film-script that he was touting around directors and actors
The movie centres on a man who comes down to earth and is the only person who knows the human race are operating in a false reality – just like that portrayed in sci-fi hit The Matrix.

The character has to unplug the programmes implanted in the minds of humans and free the world – just like Quinn claims to do in his costly seminars.

One former follower says Quinn told her that he had approached [Tom] Cruise's agents and that the top actor is interesting in taking up the role.

"That is what we were told but I have no proof that it is true. Certainly Quinn is pedalling the fact that Cruise is supposed to be interested in taking the starring role," she said.

Another former follower who attended Quinn's upper level 'Mind Masters' seminars says she was told that Quinn has been in touch with Sean Connery – a neighbour in the sunny Bahamas where he is based – and asked him to play the role.

"He said the Matrix was the closest movie to his own script in that it was this idea that everyone on earth is stuck in a time-capsule and are governed by thoughts and fears rather their own intuition.

"He reckoned that his movie would be a massive blockbuster with a real life story behind it and that it would turn him into an over-night star and see people come flocking to his seminars from all over the world," he said.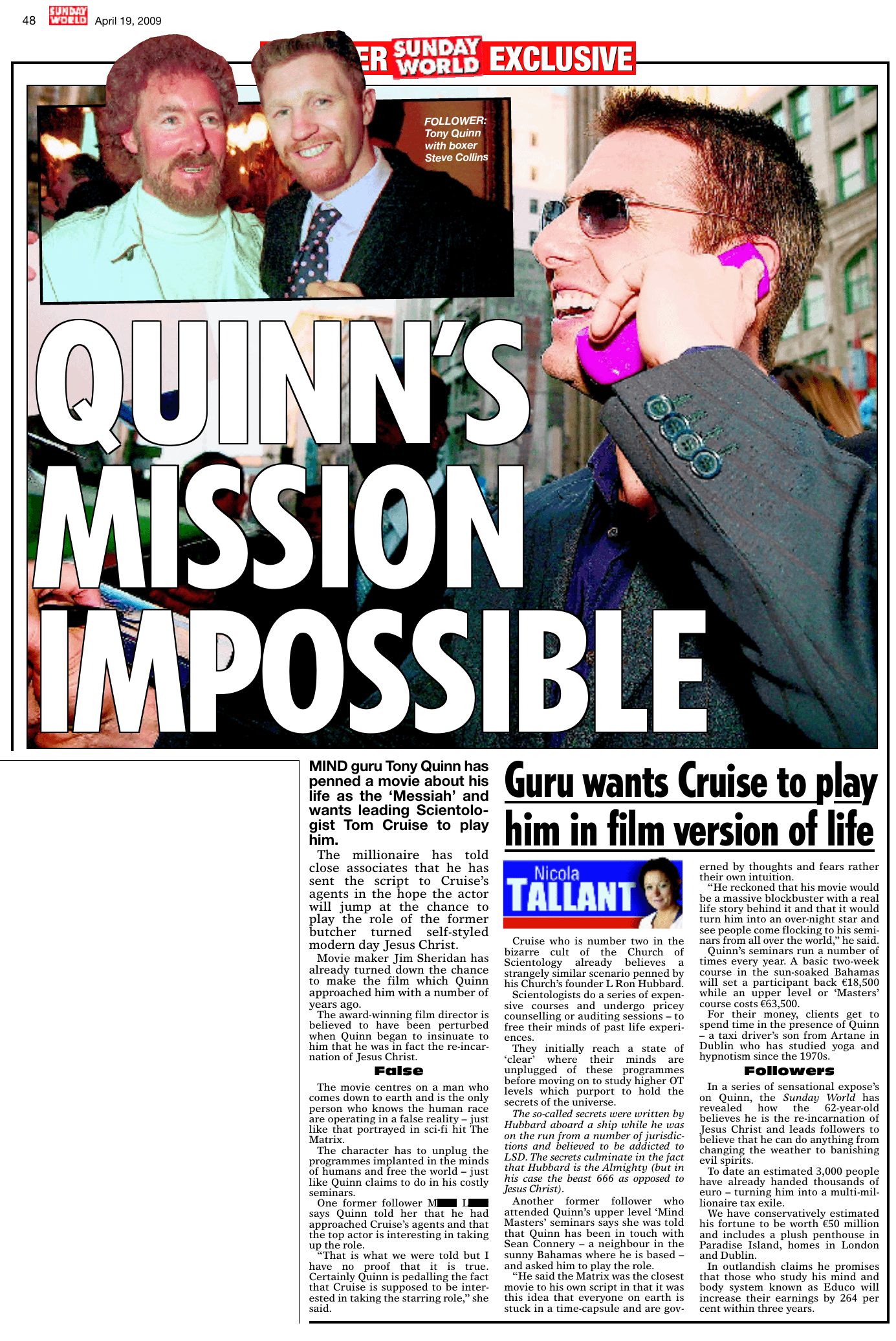 Correspondence purportedly from "Dr" Tony Quinn summarises the plot:
I once wrote a movie script about a group of people from another Dimension (reality, the real world, heaven) who had been sent on a mission to rescue the world and its people who were trapped in and under the influence of negative programs. The end of the movie is where enough people's humanity (self) is freed to awaken the world to a golden age.
Ireland's Sunday Tribune reported that "Dr" Tony Quinn had met with famed Irish director Jim Sheridan to discuss the film:
Award-winning film director Jim Sheridan has claimed that controversial lifestyle guru Tony Quinn told him that he once had a vision in which the voice of Jesus was coming from inside him.

In an interview with The Sunday Tribune, the director of Oscar-winning movies such as My Left Foot and In the Name of the Father said Quinn approached him two years ago through a mutual friend who was involved with Quinn`s organisation.

Quinn, according to Sheridan, wanted to make a film about a hypnotist. They met in the Malahide home of the figurehead of the positive living group, whose activities have led to concern among the families of some of those involved.

"I had met him before and I was once interviewed for his newspaper. I agreed to meet him because a friend of mine asked me to. He started telling me all about himself and the idea for a film he had about a hypnotist."

"He was telling me all sorts of stuff about himself, some of which I couldn't believe. He told me he was walking along one day when all of a sudden a group of some sort of Middle Eastern people appeared to him.

"He said he became aware that he was walking on sand and he followed the people to the top of a hill. He said there were thousands of people there and that he thought he heard Jesus speaking to them, but then he realised it was him. That is verbatim what he told me. I found the whole meeting unnerving."

The Sunday Tribune asked representatives of the Tony Quinn organisation if the event occurred. Tony Quinn was uncontactable but a spokesman spoke to someone who was present at the meeting. He confirmed that Quinn had an idea about a film and described it as a "sci-fi" one. However, he denied that Quinn referred to himself as a Jesus-type figure or told the story recalled by Sheridan.

Dublin-born Quinn is now a multi-millionaire thanks to his £15,000 "life-changing" seminars. Some of Quinn`s own clients told RTE`s Liveline programme last week that Quinn had similarities to Jesus.

However, this claim has been denied by Quinn`s organisation. "Tony Quinn does not have an identity crisis. He does not think he is the reincarnation of Jesus Christ," the spokesman said.

Sheridan said yesterday that after the meeting he made it clear that he did not want to have anything to do with Quinn. He said he was approached again about the project but that he refused to get involved.
An ex-member of the EDUCO messianic "Cult" told how "The Matrix" is used as an indoctrination device at the expensive hypnotic remote overseas seminars:
If your family or friends try to talk reason to you you will label them "negative", "anti-life" or "dead". With family or friends who try to talk some sense into you out of a general sense of concern for you, your programming tells you to eliminate these people from your life. "Get rid of them" Tony Quinn repeated several times throughout the two weeks on this seminar, for nothing and no one must interfere in the programming he has put in place.

You are programmed to believe that anyone who has not done an Educo seminar lives in the "Matrix", just like the Matrix movie, with their minds asleep or that they are spiritually dead or anti-life. In your mind this programming makes you feel extremely "special" compared to others. Therefore it is your job to unplug them or save them from the "Matrix" by sending them on his seminars.
A follower of EDUCO and "Dr" Tony Quinn who states in the book "Good Question!: The Art of Asking Questions To Bring About Positive Change" that he became a member of EDUCO in 1996 (and was confirmed to have recruited covertly in the offices of Enterprise Oil in London in the late 1990s) states on his website that he finds The Matrix to be "Inspiring". He writes:
We love to share links to all inspiring tales of achievement and fun – be it videos, music, products or events. This is not meant to be a definitive listing but simply some of our favourites. We welcome your recommendations but have to say that we do not include a book listing because, upon actually understanding the practical application of Educo, everything else may seem like an intellectual merry-go-round.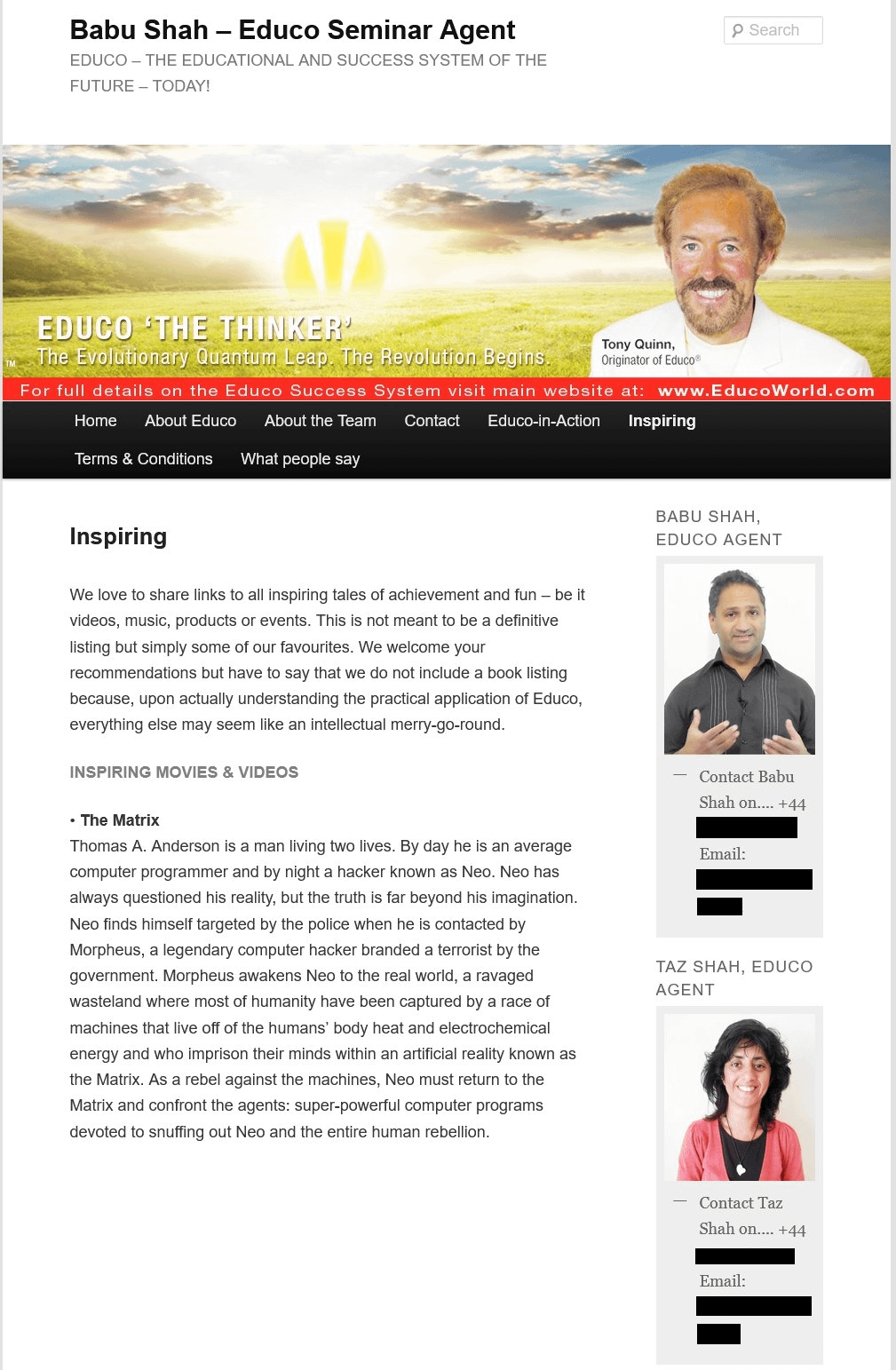 A follower of Quinn, Emma Maree who even recorded a song about him and the EDUCO Cult, published on Twitter in 2012 her "Breaking free from The Matrix" painting.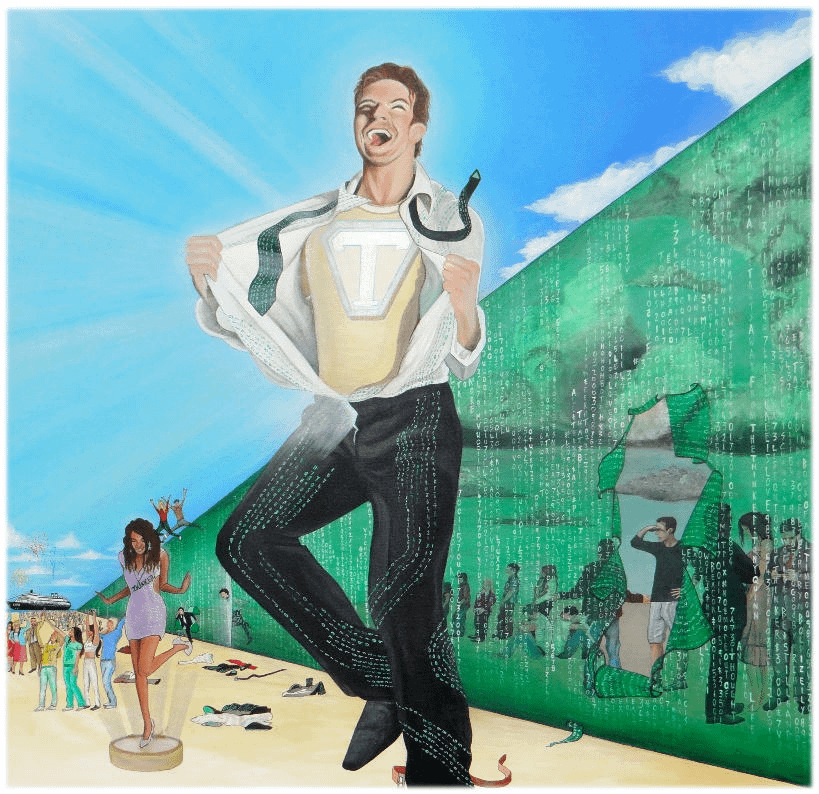 Richard Murfitt published his"The Big Life Club" Manifesto in January 2021, also referencing "The Matrix".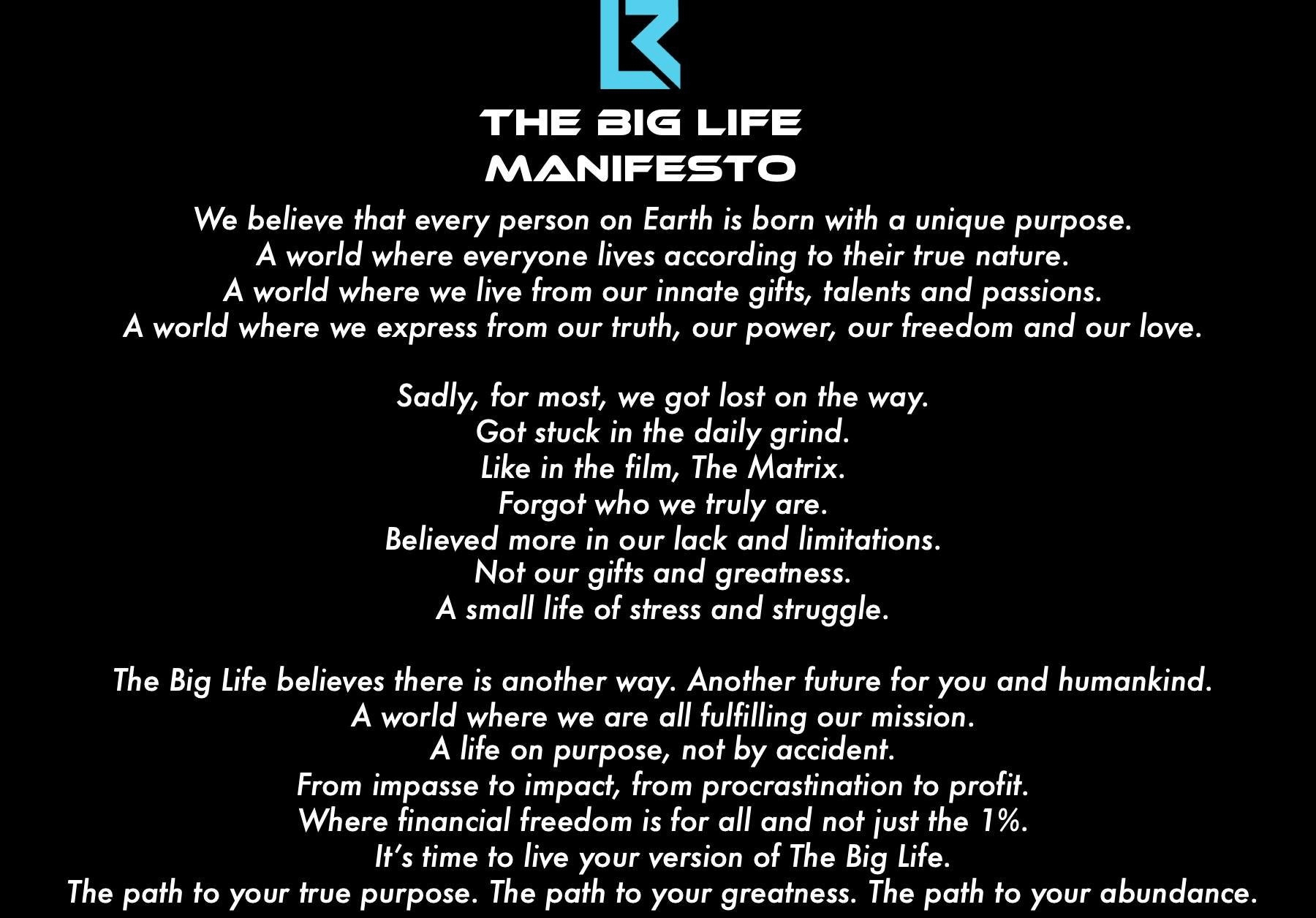 Murfitt has written " I have had the privilege of meeting and working with who I believe to be the most powerful and consequential spiritual and mind masters of our lifetime – Dr Tony Quinn. I believe this man has the highest level of consciousness of anyone currently living on the planet and has been the most influential person that led me and hundreds of others to self-actualisation"
In June 2020 Sarah Gilhooly, who identifies as "Dr" Tony Quinn's right-hand-woman, spoke to Positive Life Magazine about the need to "wake up people" because they live at a "low-level of consciousness", describing people living in the "Matrix-world". She talked about how she is experiencing this non-existent reality, which might be a description of her undiagnosed psychosis.
The name of a survivor of abuse from "Dr" Tony Quinn has been removed out of respect for their privacy (and bravery).