"Tony's €2M Spy Fund", Sunday World
Paranoid Cult Leader Used Oil Company's Coffers To Track 'Enemies' And Silence Our Investigation, by Mick McCaffrey
Guru pays for info on our girl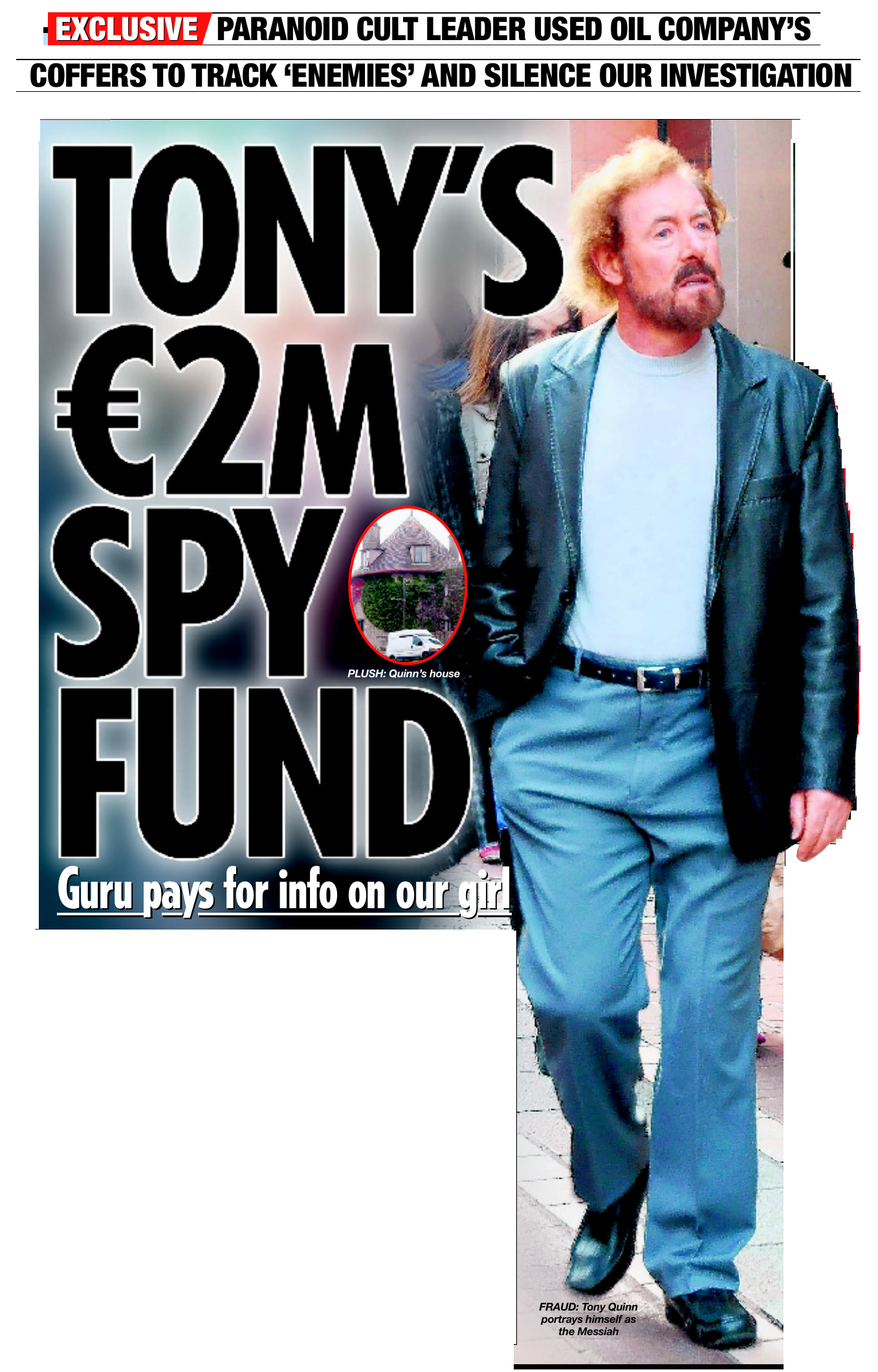 MIND GURU Tony Quinn used a €2million war chest to wage a sinister intelligence gathering campaign against his critics – including the Sunday World.
A bombshell document reveals today how the former butcher – who has amassed a €50million personal fortune and convinced followers he is Jesus Christ – hired a private army to protect himself and spy on critics, including Sunday World Investigations Editor Nicola Tallant. He also paid lawyers more than a million euro in fees in a bid to silence our investigation into his cult-like Educo organisation. The 65-year-old funded his paranoid campaign against his perceived enemies with cash from the wealthy oil firm that he is accused of muscling his way into by using his mind techniques to win favour with shareholders and directors. The Sunday World has been investigating Quinn's empire for over three years since allegations first emerged from people who said they handed him huge sums of cash, but got nothing in return.
Gullible
This week we won a landmark legal case protecting the sources of several investigative stories that exposed the murky world of the 'Mucky Messiah'. High Court Judge Gerard Hogan said we had a right to tell the public about allegations that Quinn "is effectively the leader of a religious cult which has used psychological techniques as a means of controlling gullible adherents". And today we can reveal how the paranoid mind guru – who shot to prominence when he helped coach boxer Steve Collins to a world title – hired a former Army Ranger to build intelligence on our reporter and others who were questioning his business empire.
Along with one of his most avid followers, Susan Morrice – who helped him join the board of successful company INE after it struck oil – he received profiles of his warring business partners from a Donegal company called Henrima, run by former special forces soldier Shaun Henderson.
The Sunday World has learnt that Quinn and Morrice paid €1.3 million from the coffers of the oil company, which is owned by hundreds of shareholders, to the ex-Ranger's security company around the time it went into liquidation in Ireland.
Henderson was trained by the Irish Army in anti-terrorism warfare, VIP protection and hostage rescue operations, before using his skills to set up his own private security firm. A document seen by the Sunday World details security work he carried out for oil company INE over the past few years and shows how he was paid to build up a military-style intelligence file on a number of individuals, including the Sunday World's Nicola Tallant.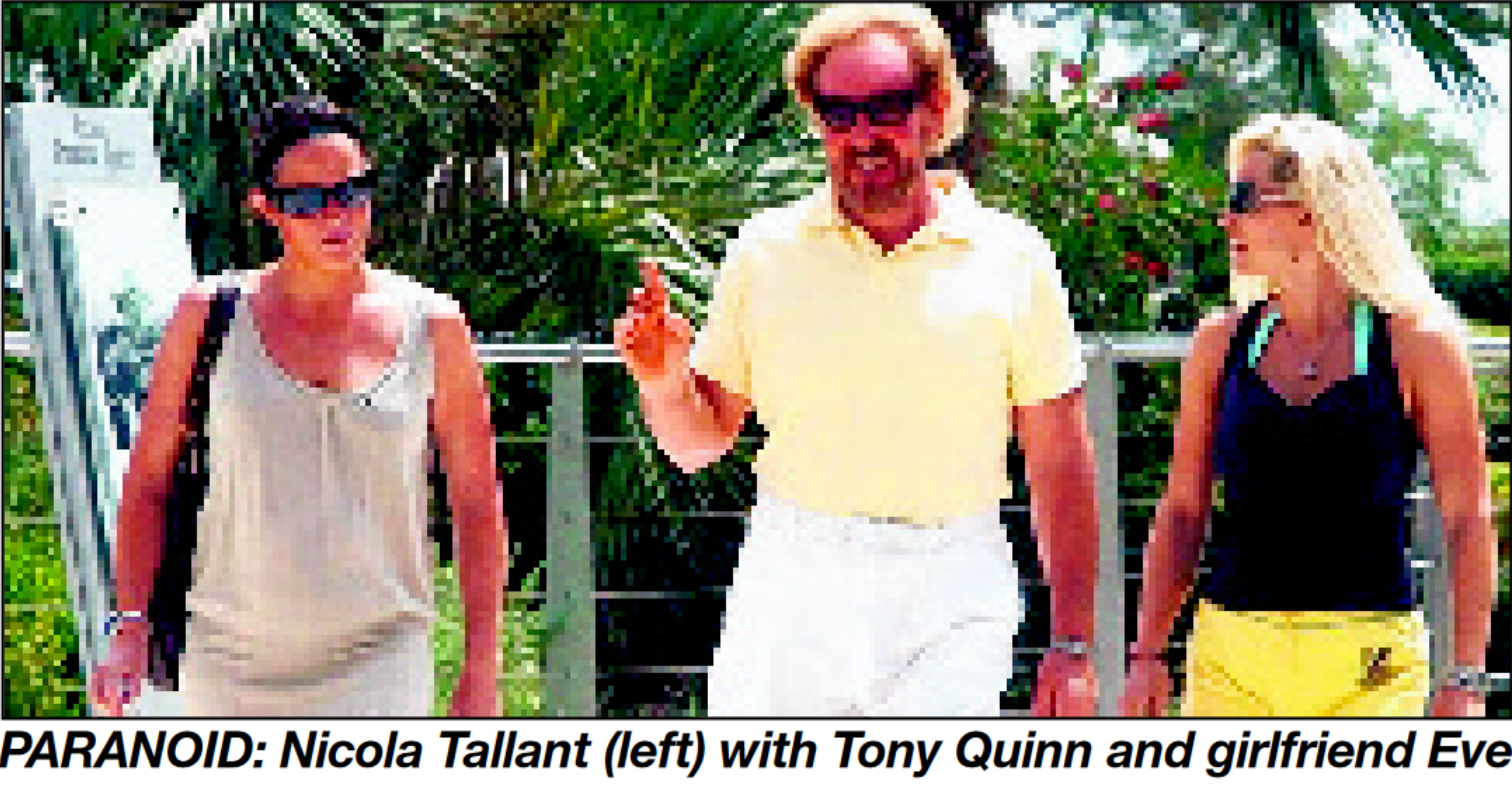 The document details personal information about Tallant that was collected after an investigation into her background. The document also lists RTE broadcaster Joe Duffy as part of a so-called anti-Quinn conspiracy, bizarrely alleging he is a member of religious group 'Opus Dei'. It contains further claims that another journalist from a national newspaper was 'recruited' to give a positive spin on Quinn and his Educo organisation. The summary document details an information tree originating with Quinn.
It branches out to show details of directors and former bosses at INE who fell out with Quinn, and lists their husbands, wives and partners. It also includes details of Tallant and personal information about members of her family. The report indicates that full individual security files would follow.
Quinn, who lives in a luxury Martello Tower home in Malahide, north Dublin, and has bases in Monaco and the Bahamas, claimed the extraordinary security operation was needed as his life was in danger and he was at risk of being abducted in a tiger kidnapping by shadowy figures he never identified.
Assault
However, our revelations today show that some of the cash to the private security firm was really spent building up intelligence and profiles on his business rivals and journalists. Quinn has spent millions trying to derail our investigations into his activities, which included a sex assault claim lodged in the Irish courts by a former devotee who claimed he had "healing sex" with her. Since January 2009 we have been shining an unwelcome spotlight on Planet Tony. Well-placed confidential sources helped to reveal how Quinn was funding an extravagant lifestyle by selling his mind-bending techniques to gullible believers. He charged up to €64,000 to attend seminars in the sun, where he would teach followers how to unlock their "inner potential" using an energy field he called "The Force", just like in the Star Wars movies. At least 400 people shelled out to attend, while more than 3,000 enrolled for the 'cut-price' version, costing €18,500. Devotees were encouraged to sell assets and to remortgage their homes to raise the cash.
Their money helped build Quinn a property empire stretching from Dublin to LA, and London to Paradise Island in the Bahamas. It also enabled the 'messiah' to live a jet setting life with his young lover Eve at his side.
He met the busty South African blonde, who is 40 years his junior, at one of his seminars. After they became lovers, the 26- year-old bizarrely dropped her real name and was re-christened with the more biblical 'Eve'.
Our investigations also took us to the millionaire's playground of Monte Carlo on the trail of Tony and Eve, where he was pocketing a staggering €50,000 a day dishing out his advice on the French Riviera.
He refused to speak to our reporter when we confronted him on the seafront and his young lover tried to shield him from our photographer. Our sources, which the High Court decided to protect this week, also gave us a unique insight in to Tony's mind-bending seminars.
Ecstasy
Videos never before seen by the general public took Sunday World readers inside the €64,000 sessions. Footage showed participants writhing on the floor in supposed ecstasy as Quinn touched them and walked among them. The most devastating claims that came to light during our investigations detailed how former follower M**** L**** from W******** accused Quinn of sexual assault and battery. L**** spent 25 years in the guru's inner circle. She told us how she believed he was the incarnation of Jesus Christ and had three "healing sex" sessions with him. "He was massively charismatic," she said. "After the classes he would give a talk and people would shake and swoon. I devoted my life to Quinn. I believed that he was the Messiah. I sold his seminars and remortgaged my own home to attend them." She walked away when she concluded Quinn was purely motivated by greed. She has now lodged sexual assault proceedings against him and her case is listed for hearing soon. It was also the Sunday World that revealed how Quinn had struck gold by being wrongfully parachuted on to the board of oil company INE, based in the impoverished country of Belize. Some leading shareholders in the firm had attended his classes and credited his mind-bending techniques with finding oil.
But an ensuing boardroom battle has landed Quinn in court with other former directors who accused him of using the company as a cash cow for his Educo empire and who claimed that he and Morrice bullied other shareholders while favouring those who were Quinn devotees.
A court in the Caribbean last month ruled that the guru was never properly appointed to his role in the company and overturned a €23 million shareholding he was gifted by followers, including Morrice. It found Quinn had spent excessive millions from the firm's coffers on his personal security, as well as "preposterous" amounts sending its employees on his own courses. The latest battle in the war will take place in a court in Denver, Colorado, in January, where former business partners are suing each other as the fallout from Quinn's involvement in INE continues
JUDGE'S LANDMARK RULING FOR THE SUNDAY WORLD this week won a landmark legal judgement to protect confidential journalistic sources.
Judge Hogan: 'The media are clearly entitled to educate public opinion in this regard'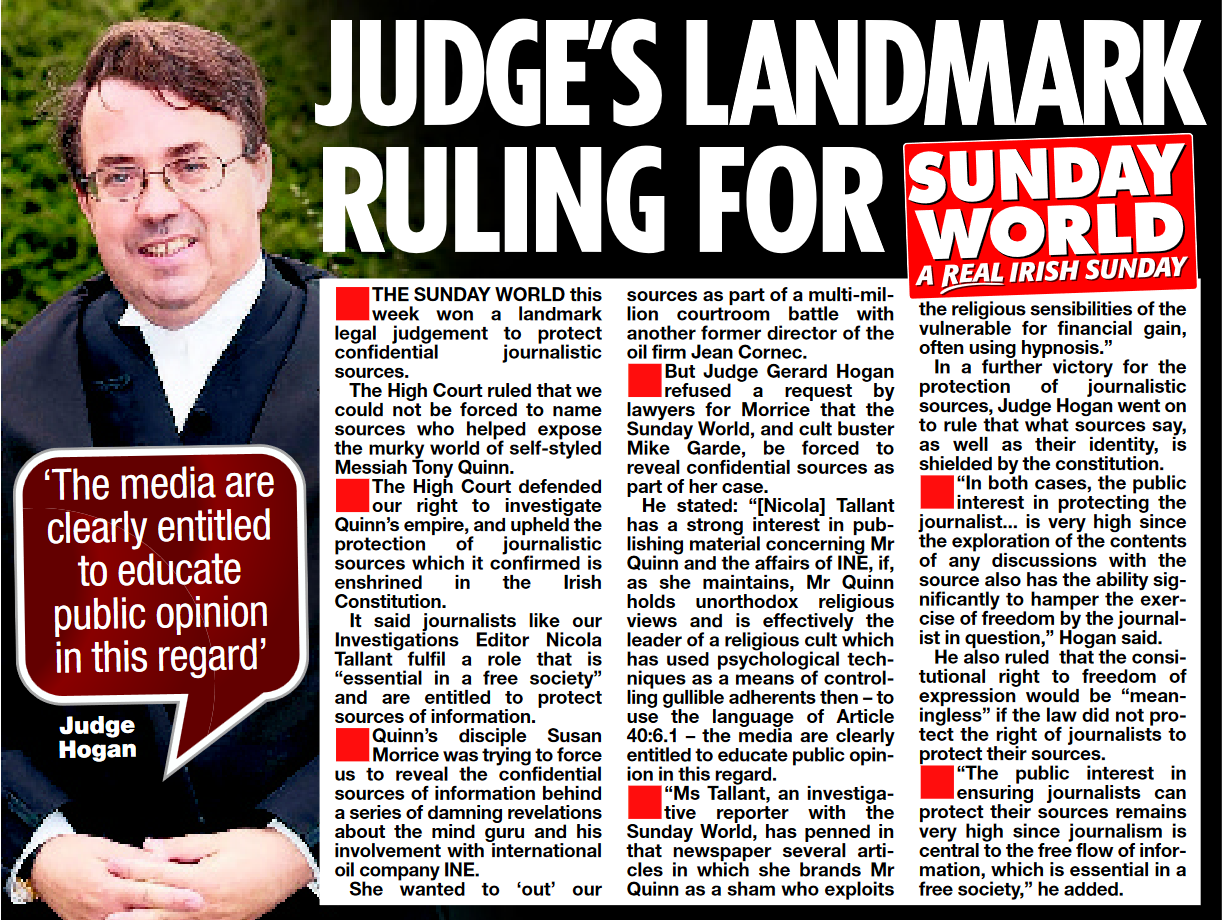 The High Court ruled that we could not be forced to name sources who helped expose he murky world of self-styled Messiah Tony Quinn.
The High Court defended our right to investigate Quinn's empire, and upheld the protection of journalistic sources which it confirmed is enshrined in the Irish Constitution.
It said journalists like our Investigations Editor Nicola Tallant fulfil a role that is "essential in a free society" and are entitled to protect sources of information.
Quinn's disciple Susan Morrice was trying to force us to reveal the confidential sources of information behind a series of damning revelations about the mind guru and his involvement with international oil company INE.
She wanted to 'out' our sources as part of a multi-million courtroom battle with another former director of the oil firm Jean Cornec.
But Judge Gerard Hogan refused a request by lawyers for Morrice that the Sunday World, and cult buster Mike Garde, be forced to reveal confidential sources as part of her case.
He stated: "[Nicola] Tallant has a strong interest in publishing material concerning Mr Quinn and the affairs of INE, if, as she maintains, Mr Quinn holds unorthodox religious views and is effectively the leader of a religious cult which has used psychological techniques as a means of controlling gullible adherents then – to use the language of Article 40:6.1 – the media are clearly entitled to educate public opinion in this regard.
"Ms Tallant, an investigative reporter with the Sunday World, has penned in that newspaper several articles in which she brands Mr Quinn as a sham who exploits the religious sensibilities of the vulnerable for financial gain, often using hypnosis."
In a further victory for the protection of journalistic sources, Judge Hogan went on to rule that what sources say, as well as their identity, is shielded by the constitution.
"In both cases, the public interest in protecting the journalist… is very high since the exploration of the contents of any discussions with the source also has the ability significantly to hamper the exercise of freedom by the journalist in question," Hogan said.
He also ruled that the constitutional right to freedom of expression would be "meaningless" if the law did not protect the right of journalists to protect their sources.
"The public interest in ensuring journalists can protect their sources remains very high since journalism is central to the free flow of information, which is essential in a free society," he added.
Quinn's Intelligence Targets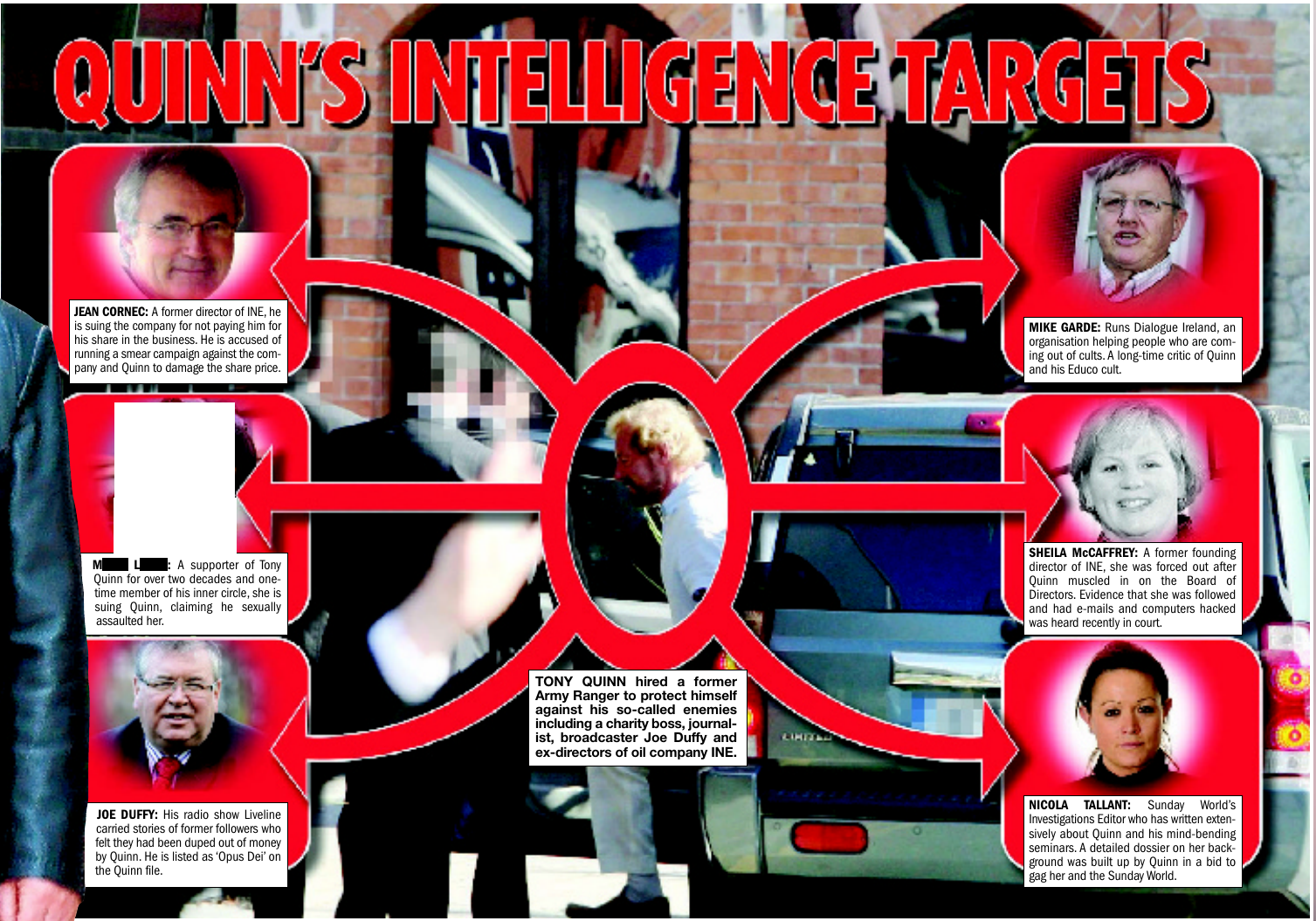 TONY QUINN hired a former Army Ranger to protect himself against his so-called enemies including a charity boss, journalist, broadcaster Joe Duffy and ex-directors of oil company INE.
JEAN CORNEC: A former director of INE, he is suing the company for not paying him for his share in the business. He is accused of running a smear campaign against the company and Quinn to damage the share price.
M**** L****: A supporter of Tony Quinn for over two decades and one-time member of his inner circle, she is suing Quinn, claiming he sexually assaulted her.
JOE DUFFY: His radio show Liveline carried stories of former followers who felt they had been duped out of money by Quinn. He is listed as 'Opus Dei' on the Quinn file.
NICOLA TALLANT: Sunday World's Investigations Editor who has written extensively about Quinn and his mind-bending seminars. A detailed dossier on her background was built up by Quinn in a bid to gag her and the Sunday World.
SHEILA McCAFFREY: A former founding director of INE, she was forced out after Quinn muscled in on the Board of Directors. Evidence that she was followed and had e-mails and computers hacked was heard recently in court.
MIKE GARDE: Runs Dialogue Ireland, an organisation helping people who are coming out of cults. A long-time critic of Quinn and his Educo cult.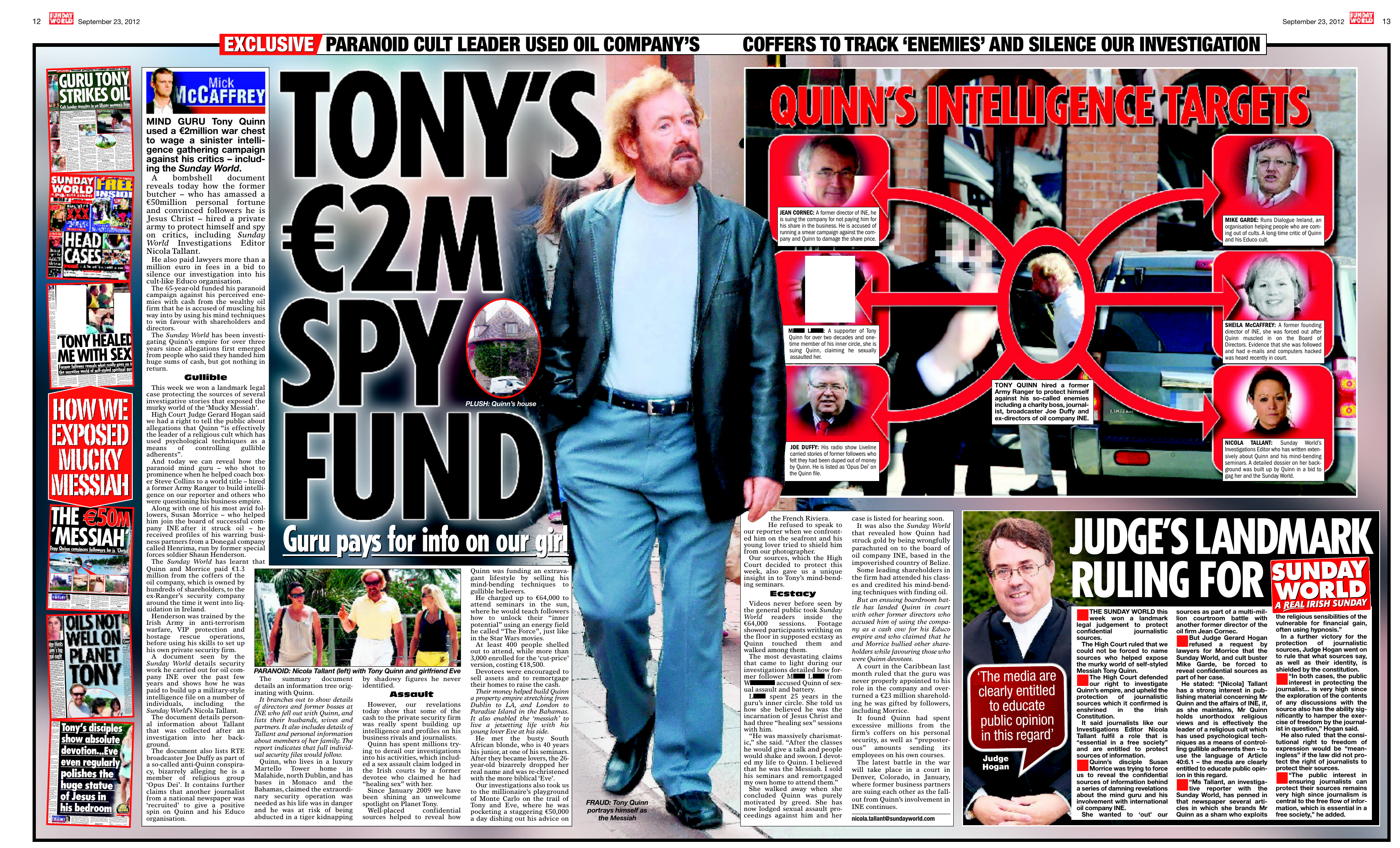 Article sourced from Dialogue Ireland
Some names and images have been removed out of respect for the privacy of survivors and Victors of Tony Quinn's cultic abuse.